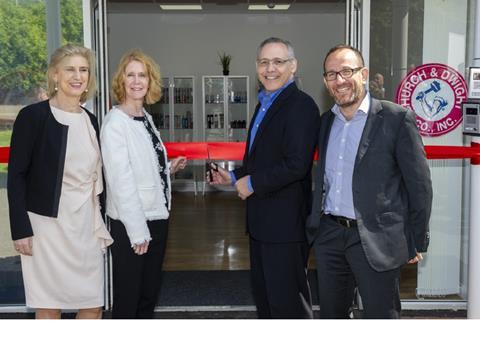 Church & Dwight UK Ltd has announced the opening of Discovery House, a dedicated Research & Development Centre in Folkestone, Kent.
The facility is the first of its kind for Church & Dwight Co. Inc. established to place the consumer at the heart of the innovation process. Discovery House will be home to 33 members of the European Research & Development Team, led by Marita Alegre, European Research & Development Director. The team leverages diversity and builds on each other's unique and complimentary skills and expertise to deliver the best in innovation. The Centre will feature a Design Thinking Room, Packaging & Product Laboratories and a Consumer Testing Centre, housing the latest technology, including a 3D printer for packaging production, specialist equipment for transit and drop testing, a Particle Size Analyser and a Dia-Strong, for aerosol and powder technology.
Marita Alegre comments, "Our move coincides with the introduction of specialist training for our Scientists and Technologists on "Design Thinking" and allows us to put our new leading-innovation mindset into practice. For example, now the team can host a consumer focus group to gauge opinion on proposed innovation. The team can react to that feedback immediately and make suggested changes to the formulation or packaging on site. We can then ask the group to return the following day to review the updated formulation. We are now at a huge advantage as we can realise the viability of a formulation as we are able to assess its' processability very quickly."
Discovery House will be home to NPD for Batiste and packaging development for Church & Dwight's Haircare portfolio including Batiste, Viviscal and Toppik, and Oralcare brands; Arm & Hammer, Pearl Drops and Waterpik and Feminine Care brands; Nair and Femfresh and Healthcare brands including Sterimar.
Marita Alegre shares the focus of development: "Innovation in packaging materials, style and format. This will be combined with the application of sustainability matrixes and analytical Life Cycle tool results by Brand. This will involve materials testing and production capability and looking at cost optimisation in combination with 'back engineering' for automated robotic production capability."
Church & Dwight's packaging focus will be around tinplate & ALU cans, plastic bottles, tubes and carton board. Its targets are governed by our Global Corporate Goals and Sustainability Pillars for Reduction & Recycling, removal of PVC and FSC approval for carton board materials. Reduction of CO2 and recycling content for its packaging are key priorities, to comply with future packaging legislation. Plastic reduction and Extended Producer Responsibilities mean an acceleration of Life Cycle Analysis, closed loop technologies and reductions in overall packaging waste. Marita Alegre adds, "Functionally, we will be looking at light-weighting cans in conjunction with BAMA guidelines, further use of fully recyclable ALU cans, Sleeves as a means for easier recycling, stock management and reduced CO2 in storage and transportation."
"With a focus on our key brands packaging our strategy allows 1 (Consumer Delight, (2 reduction in materials and increasing our recycled content to still 3) perform at high speed in production. We will monitor the availability of new bio plastic materials and volumes of supply to test and validate functionality and performance. Key to expanding this packaging supply channel is to close an efficient 'loop' from Consumer back to Producer."
Looking to the future, Marita Alegre hints at Church and Dwight's areas of focus, "If we can find the ideal sourcing for bioplastic materials and validate their performance, then this will fit with the general trends in plastic reduction and global changes to packaging materials. If we can 'back engineer' our automation capabilities with sustainable packaging materials, then Church & Dwight will continue to grow globally and be supported by our consumers."