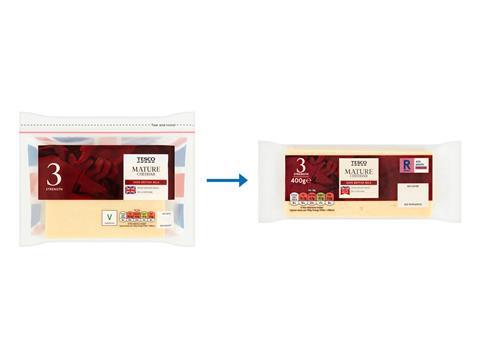 By changing the packaging for its own-brand hard cheeses, retailer Tesco predicts that it will save 260 tonnes of plastic each year.
Nearly 40 lines of the retailer's territorial hard cheeses have been re-formatted, which has seen a switch from the traditional square block shape to oblong packaging, as well as the removal of the re-sealable zip which is currently used.
Tesco has also ditched the plastic trays in which these cheeses are delivered – the products will now be sent in a new cardboard shelf-ready format.
The move comes in advance of the key festive shopping period – the busiest time of the year for cheese sales – and Tesco projects it will save 11 tonnes in plastic in just two weeks before Christmas.
The company's cheese buying manager, Peter Wood, comments: "This is a revolutionary move for the UK cheese industry because the iconic square-shaped cheese packs have been around for decades.
"By changing the pack shape and also removing the re-sealable zip we will be able to reduce plastic packaging on our brand hard cheeses by up to 41% against the former product, depending on the size of the block.
"Another benefit to customers is that these new chunkier pack sizes are easier to handle so cutting, grating, and slicing will be simpler."
The move is part of Tesco's ongoing 4Rs (Remove, Reduce, Reuse, Recycle) strategy set up with the aim of removing excess and non-recyclable material from its business and recycling the rest.
As a part of this work, the company has committed to removing a billion pieces of plastic by the end of 2020 – tinned multipacks, secondary lids, and the small bags used to pack loose fruit and veg have all been removed thus far.