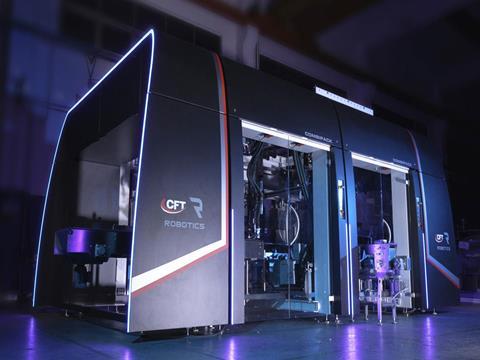 CFT's ADV Combipack is a new modular machine that seeks to deliver an all-in-one secondary packaging solution, offering multiple functions including carton erection, filling, closing and palletizing. The new product can reportedly handle multiple packaging formats, including American boxes, display boxes, wraparounds, carton trays, and combi cases.
The machine's frame, made of either coated or stainless steel, can be expanded lengthwise to incorporate different functions. Each modular body section is positioned between the two end modules: the number of sections is defined by the number of process steps required within the enclosed envelope of the machine.
From a control perspective, CFT Group provides its COMBI-AS solution, which includes a Rockwell® ControlLogix® programmable automation controller (PAC).
The ADV Combipack has been developed with an "innovative" carton transport unit. The oval track based on linear servomotor technology is the basic module, equipped with iTRAk® technology to manage the independent shuttles, called COMBI-MOVERS.
A vacuum system featuring a patented contactless technology to energize the vacuum pumps above the COMBI-MOVER is combined with a special polymer on the top surface of the shuttles. This reportedly ensures that the cartons maintain their position to the millimetre throughout the complete packaging process, with "100% carton control".
The company argues that its COMBI-MOVERS' technology results in faster production changeovers, increased productivity, reduced complexity, easier operation, and more profitable production runs.
The oval configuration reportedly allows a more compact and shorter footprint, while precise and dynamic six axes robots manage its main functions.
According to Gianluca Scaramuzza, Sales Director of CFT Robotics division, "The ADV Combipack machine offers outstanding flexibility and the ability to provide multiple packaging formats. The machine modularity adapts the solution practically to every kind of customer need, always offering a fast and reliable technology and a reduced footprint. Easy maintenance, low downtime periods and great efficiency are other three key features of this brand-new equipment".
"We selected Rockwell Automation as a partner for their high service standards, their global reach, and their impressive product portfolio," he adds. "Our engineers were able to design a flexible and upgradeable solution, starting from Rockwell's design and programming efforts. We are very proud of the result because this gives our customers the chance to benefit from reduced energy consumption, easy maintenance and troubleshooting, reduced changeover times and very short installation and start-up times".
This content was sponsored by CFT.