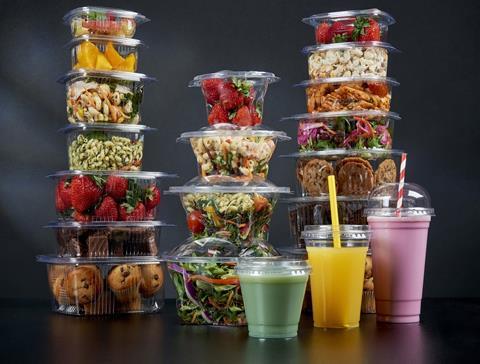 Foodservice packaging supplier Celebration Packaging has announced its new range of recycled PET packaging, which it says is made from recycled materials and is fully recyclable itself.
To make its new foodservice packaging range, Celebration Packaging cuts post-consumer PET into small pieces, which are then cleaned before being transformed into flakes. These flakes are apparently used to make rPET sheets for the manufacture of Celebration Packaging's new range of products.
The company adds that its new range is available in multiple sizes to suit different applications. This includes the Oval, Rectangular and Round Families – high-clarity clear bowls with hinged lids, which it claims are ideal for presenting fresh salads and vegetables.
The Premium Bowl and Diamond Bowl ranges will be available in transparent or black, with matching tight-fitting transparent lids, while its Catering Trays will be available in a variety of colours, each with transparent covers. The company adds that a range of cups with domed lids will also be available.
The new ranges will debut during ExCel in London - an event that coincides with National Recycle Week.
Nick Burton, managing director at Celebration Packaging, says: "It's no coincidence that 20 to 26 September is also National Recycle Week and Celebration Packaging is proud to be launching these new recyclable foodservice packaging products which are currently made from up to 80% recycled post-consumer PET waste. By the end of this year, the new range will be manufactured using 100% rPET."
The company claims that its rPET material "has the potential to achieve a 100% circular economy model". In a bid to further its commitment to circularity, Celebration Packaging says it will also be launching other new products alongside the rPET range at the ExCel event.
According to Burton: "As this will be the first 'live' event in the sector since the pandemic, the Celebration Packaging team is excited to have the opportunity to meet existing and new customers on stand G40.
"We have many new products to show, alongside our new rPET range, and we look forward to discussing visitors' future requirements for more sustainable food packaging."