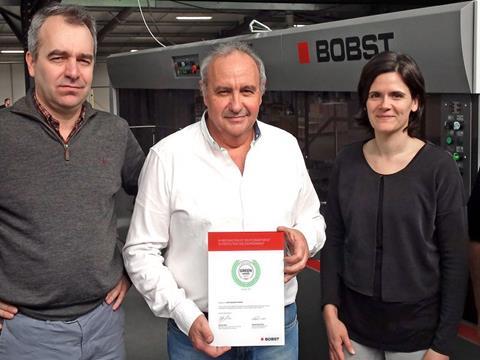 All machines need lubrication to minimize wear and function smoothly, and oil is a commonly used lubricator. However, packaging production machines occasionally shed lubricants from moving parts onto the packaging they are producing.
For companies producing food or pharmaceutical products, this can potentially be a serious issue. If the packaging manufacturer's equipment uses mineral oil based lubricants, this then makes it possible for dangerous chemicals to migrate from the packaging into the food itself. The risks of mineral oils. For example, in 2000, tins of baby food in the UK were found to be contaminated with mineral oil lubricant, possibly from a machine in the manufacturing process, while in 2002, a total of 1,100 tons of milk powder in the US were contaminated by lubricating oil containing very fine iron particles. For a company like Cartonnages Franche – a leading packaging company in France, specializing in compact carton and corrugated packaging for industries including the food and drink industry – such a risk is not an option.
"It's a topic that is of concern for all our customers and for mass retail in general," says Antoine de Bengy, CEO of Cartonnages Franche. "Rather than just remaining passive, we've chosen to take a proactive approach." Food-grade compliant oil – a safe and environmentally-friendly approach.
He is referring to the decision to switch to BOBST Extended Performance Oil, a synthetic food-grade compliant formula, for the all of the company's die cutters. Extended Performance Oil ensures that even if traces of lubricant should come into contact with food or water, the food will not be contaminated. BOBST lubricants are certified by NSF International, an international health and safety organization, and they meet the requirements of the most stringent industries, including food, pharmaceuticals and cosmetics.
What's more there is an environmental benefit with synthetic food-grade complaint oil, a topic central to the philosophy of Cartonnages Franche, who actively promote sustainability and conservation of the planet's natural resources. Using BOBST synthetic Extended Performance Oil cuts down maintenance on the machines and extends the life of mechanical parts. The products are easily disposed of and are environmentally friendly. "We're making efforts to respect the environment and provide responses to our customers' needs," says Mr De Begny. "It also lets us set ourselves apart from the competition. In the long term, if we want to stay professional and be constructive, choices like this have to be made. It's important to anticipate and not wait for things to happen." A competitive benefit to the company and its customers.
Jean-Claude Asselin, Director of Production at Cartonnages Franche argues that it also offers a competitive benefit to their customers. "They also face many constraints – in the area of food safety, for example," he said. "It's important for us to support them and offer them services that let them stay competitive." Cartonnages Franche also added a BOBST Oil Cleaner. The system continuously filter out contaminants such as water, iron and silicon from the machine's main oil circuit. The oil cleaner keeps the oil at a high quality level removing the need to carry out annual oil changes, instead changes can be reduced to an average of once every 5 years. Each liter of used oil results in approximately 2.6 kgs of CO2 emission, thus the reduction in use has a positive impact on the environment. A partnership built on trust"We trust BOBST expertise," says Mr De Begny. "BOBST has been our partner from the very start. BOBST is at the leading edge in so many areas, so it's in our interest to work with the best partner available."
This level of trust and reliability is vital for companies that entirely depend on fully-functioning machinery. Mr Asselin says that his main concern when turning on the lights each morning is "for all the machines to operate properly so that we can do our work. Something unpredictable can always happen, but my main concern is for production to start up in the morning and for us to be able to do all our work within the deadlines."
The consequences of this not happening can be significant. "When one of our machines isn't operating, we lose not only money, but above all time – time we will never be able to recover," says Mr De Begny. "To give an example, if a machine stops on a Friday at 4 p.m., we can't afford to wait until Monday morning to talk to a technician. Some machine manufacturers don't understand the concept of service. Fortunately that's not true for BOBST and its technicians, who are very reactive."
More info: