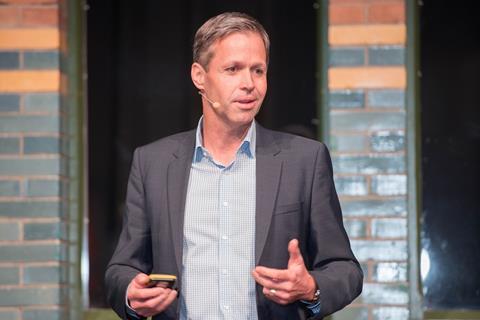 Libby White met with Udo Panenka, president of Esko, at the 2017 Active & Intelligent Packaging World Congress to hear about how digitisation of supply chains can be essential to support smart packaging technologies and innovations, and to enable connections to online and social media. The Esko platform for brands aims to deliver powerful omnichannel marketing and packaging content to ensure consistent consumer experience.
Mr Panenka points to recent research from McKinsey measuring the digitisation of supply chains by sector that highlights consumer packaged goods came in last. He emphasises that to master the complexity that comes with great packaging is an enabler to have more fun with active and intelligent packaging.
LW: It is apparent from recent research that CPGs have not really 'caught on' yet with the digitisation of supply chains. Why do you think that is?
UP: I think it's the way the CPG industry perceives packaging. It should be used to drive sales and support customer engagement, but many companies still view packaging as a cost driver.
I believe there is a huge untapped opportunity that many companies still don't see today, only a few really advanced players are leading the way.
A thread of discussion that seems prevalent to me at this year's AIP Congress is that there are inconsistencies between the physical and digital faces of brands, and a huge gap between their packaging and marketing departments. Why do you feel there is this discrepancy and how do you aim to bridge the gap?
We aim to work with brands to address this problem.
The real potential lies where there's cross-functional collaboration between marketing and packaging. The two must work together seamlessly to see vast improvements and currently I would say that nine out of ten brands have a brick wall between the packaging and marketing departments.
Typically, our 'entry point' for a brand is within the packaging department. Our computer-generated images used in the approval process for packaging are high quality and can also be used to create a digital online shelf. Esko's platform and processes applied to create great physical packaging can also be leveraged to feed the digital marketing channels of brands and retailers.
Can you give me an example of how brands are using your platform to its full benefit?
Most recently, we were involved with HP Indigo in a campaign for cream liqueur brand Amarula. Every year many elephants are killed for their tusks. Amarula drove an awareness campaign supporting the elephants, allowing customers to design their own unique label on a website for an individual Amarula bottle using the HP mosaic technology and our workflows. They even named each individual elephant.
In the end, 400,000 individual labels were created to represent each elephant still living in South Africa. The money raised from the campaign was used to help protect the remaining elephants in partnership with a conservation group.
I think this is a great example of bringing online digital and physical packaging much closer together to provide consumer engagement.
Where do you see the future of consumer engagement with regards to localised campaigns?
I think consumer engagement tools must become more widespread. If you watch what's happening in the brand space, the largest brands are struggling to grow.
Basically, they are waking up each morning and asking themselves: How can I deliver a more engaging consumer experience? How can I really drive growth on both the online and offline world?
There is a big need to create more excitement and better consumer experiences, and I believe that this will lead to a better adoption of active and intelligent packaging.
At the moment many of the projects are lighthouse projects, because the underlying core processes are so poor that brands can't manage to deliver mainstream campaigns. It's not so much about the overall cost, there's technology out there today that can be used, but there needs to be core underlying processes in order to support the huge efforts.
What have you taken from the AIP congress?
Looking at the list of participants, brands, and converters attending there is a great spread of key people in the industry. It feels to me that there is really a dynamic interest in this space, and brand owners are watching smart packaging closely.
We are still in the early days of this technology, but we are seeing more and more examples of smart and intelligent packaging.
It seems that the pace of adoption will clearly accelerate over the next few years.