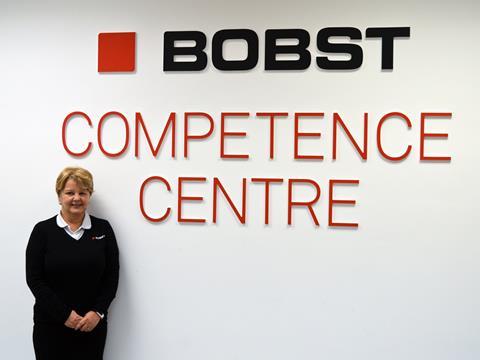 Bobst UK & Ireland delivered more than 130 training courses in 2018, supporting the company's drive to raise education across the industry and eliminate the skills gap within British manufacturing.
The courses, designed for training employees at all levels, from machine operator to manager, were completed at BOBST's Competence Centre in Redditch, as well as at customer sites.
Wendy Perks, Service Support, Fleet and Facilities Officer, Bobst UK & Ireland, said: "The training we provide is hugely beneficial for operators and engineers working on highly technical machines. By providing training and ongoing support to our customers, we are able to help them achieve their wider business objectives through improved operational productivity and efficiency."
BOBST, one of the world's leading suppliers of machinery and services to folding carton, corrugated board and flexible packaging manufacturers, offers training at its Competence Centre in Redditch in a controlled environment, without the added pressures of meeting production needs back on site.
Training can also take place at the customer site so that operators can train on specific machinery using live jobs in real-time, helping to achieve optimum performance from production equipment.
Wendy added: "The print and packaging industry is the fourth largest in the UK, employing some 250,000 people and turning over billions of pounds a year. Yet, for an industry so large, there is a tremendous void in educating printing and packaging professionals to address the skills shortage and ensure talented individuals are able to forge a successful career within the sector."
BOBST delivers third-party training, providing multi-tiered programmes structured into bronze, silver and gold, which cater for all levels of seniority, skills and abilities, and offers a mix of practical and theoretical study to improve capabilities and encourage job satisfaction.
The courses run across the spectrum of print and packaging operations such as Die-Cutting Sheet Optimisation, Intermediate Folder-Gluing for Operators as well as Electrical and Mechanical Maintenance for Die-Cutters and Folder-Gluers in both the Carton and Corrugated sectors of the industry.
The company also offers further support with a dedicated web-fed team based at its Redditch site. The web-fed team offers a high level of technical support and supervises project teams from beginning to end, covering in-line narrow and mid-web flexo, CI flexo, gravure, coating and laminating.
BOBST courses are all bespoke designed to meet customers' specific requirements and real life jobs can be set up to demonstrate best practice in quality, efficiency and performance.