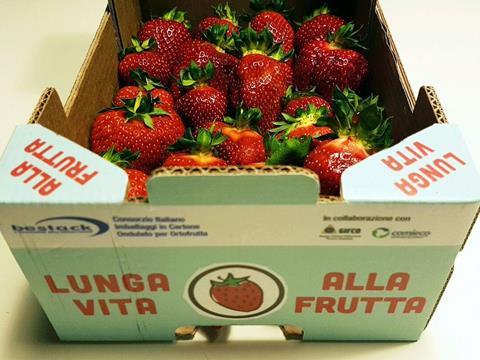 According to a report from Smithers Pira, the corrugated packaging industry is growing rapidly. Demand for corrugated packaging material is expected to increase by an average of more than four per cent annually over the next five years. Elisabeth Skoda explores some of the recent areas of innovation that demonstrate the potential of corrugated.
Corrugated has many benefits as a packaging material when protecting goods, especially fresh produce. According to reports from the corrugated packaging association FEFCO, research has proven that corrugated reduces the risk of microbiological contamination compared with reusable plastic crates – prolonging shelf life by up to three days. Corrugated is also made from up to 88 per cent recycled materials.
Corrugated packaging offers optimal protection to products. It can be easily stacked, can be customised for easy opening and handling without damaging the product in store. It also offers good retail appeal. Advanced printing methods turn corrugated into an attractive shelf ready packaging and an effective marketing tool.
Extending shelf life
Nathalie Schneegans, communications director at FEFCO, highlights Bestack, a non-profit consortium among the main Italian firms that produce packaging for fruit and vegetables (International Paper, Fustelpack, SmurfiKappa, Ghelfi Ondulati, DS Smith, Ondulor, Mauro Benedetti, Scatolificio Sandra e Trevikart), which carries out research to innovate in the area of cardboard packaging for fruit and vegetables.
As a result of an ongoing cooperation between Bestack and a research group at Bologna University, packaging was developed which increases the shelf life of products thanks to controlling the proliferation of microbiological organisms. Bestack active corrugated cardboard packaging uses the same essential oils present in nature which are already in use in the food industry, as approved by the legislative framework. This is in order to control the ripening process and to slow it down in a natural way.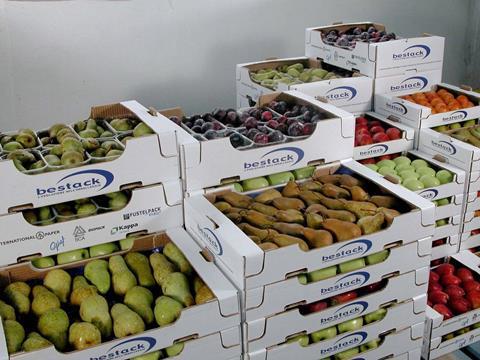 "In 2016, Bestack active packaging has been tested directly at selling points producing exciting results. Product shelf life was increased by 1.6 days in comparison with traditional packaging, the ripening process was regulated, allowing for the fruit to be picked up as near as possible to the time of optimal ripening, The likelihood of product waste is reduced, allowing for less energy consuming preservation processes, improving retailers' and consumers' satisfaction and consolidating rapports within the supply chain," Ms Schneegans explains.
Printability
Luis Christophe, EMEA Corrugated Segment Marketing Manager at HP, explains how advances in print technology have turned corrugated into a viable option for attracting attention on the shelf. Brands are increasingly competing at the shelf, and HP argues that it is clear the corrugated packaging market is ready for a digital transformation.
"The use of digital print has been a prominent feature in labels and flexible packaging for over two decades, and while we continue to see that trend climb, the spotlight is shifting to the corrugated packaging market," Mr Christophe explains.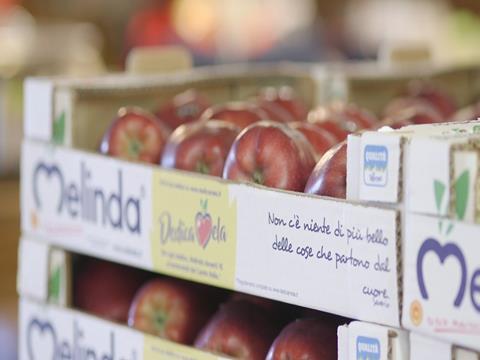 Corrugated is an important market for HP. As a more than $226 billion industry enjoying impressive growth, it is forecast to hit $269 billion in 2021, according to a Smithers Pira report on the future of global packaging. The HP addressable market is estimated at $3.4 billion according to an internal study by HP in April 2014.
Attractive at POS
As a material, the primary purpose of corrugated is simple: to protect products. Historically it was secondary packaging with low value added. However, the shift in consumer behaviour puts much more weight now at the final steps of purchasing. Savvy marketers and brand managers have discovered that while the intent of corrugated packaging is protection, there's a huge opportunity to use that same packaging to win at the shelf. The product box has evolved from just protection to a tool for brands to differentiate from competition.
Additionally, there's a trend in using corrugated for economical retail purposes, where corrugated pallets are replacing shelves, often seen in supermarkets and grocery stores. That said, shelf-ready packaging is quickly picking up steam, serving the dual purpose of a box and a display.
"Today consumers want more interaction with their brands and that places corrugated boxes in a unique position to add value through digital printing," Mr Christophe points out.
"A recent example of this is a project co-founded by Melinda, the market leader for apples, and Ghelfi Ondulati, an integrated box producer, both located in Italy. The project consisted of producing apple trays with messages from consumers to support people who were impacted by the 2016 earthquakes in Italy. Each box was digitally printed by the HP PageWide T1100S press by Ghelfi Ondulati. The campaign became so successful that consumers are buying larger trays of apples to take it home, therefore becoming the primary packaging in this context, because the larger trays carries the personalised messages."
Mr Christophe praises corrugated's unique properties.
"Corrugated is economical, delivers great value from protection to conveying messages, and contributes to environmentally friendly packaging efforts given many corrugated boards are made of recycled paper. Additionally, due to its light weight, corrugated is an affordable packaging option as it often saves on transportation and shipping costs."
The full range of corrugated packaging and displays are covered by HP Solutions – from high volume, high speed basic corrugated applications on uncoated media to improved graphics for merchandise displays and high value, large format boxes.
The newfound versatility in the corrugated packaging market is displayed within two HP product ranges: HP PageWide Web Presses and HP Scitex Presses. The portfolio of HP presses – including both pre- and post-print solutions – offers speed, quality, and versatility.
Mr Christophe is keen to highlight the latest advancements announced by HP for the packaging markets: "The HP PageWide C500, powered by HP PageWide Thermal Inkjet Technology. A direct-to-board digital corrugated solution, the HP PageWide C500 prints on 1.3 metre-wide boards using an innovative corrugated media handling solution with a virtual belt. Announced at drupa 2016, customer beta testing is scheduled to begin at the end of this year, with commercial availability planned for 2018. Additionally, the HP Scitex 17000 Press enables printers to produce displays and short-run boxes with high-quality printing at a fast production speed."
Spatial efficiency
Chiara Covone, Divisional Innovation Director at DS Smith highlights the important role corrugated can play to help retailers and manufacturers stay ahead and target growth. She talks about two recent innovations by DS Smith which the company believes will drive down costs, reduce return rates and ultimately help our customers be more efficient when shipping online products.
"One particularly big challenge for the industry is the issue of void space. On average 55 per cent of each box shipped is empty because of the infinite combination of products purchased online and the finite number of packaging solutions. Shipping air is a waste of money that no company can afford.
In light of this, DS Smith has pioneered Made2fit, a technological solution which creates right size packaging. The manual Made2fit solution is designed to work for lower volume orders, creating 39 possible box size combinations from just three blank sizes. Whereas the automated version of Made2fit is for larger volume orders, with the capability to manufacture more than 10 million box size combinations, in a process that is omnichannel-ready," Ms Covone explains.
"Made2fit could revolutionise the industry as it will save warehouse space, reduce order administration and significantly cut assembly and packing times. It should also significantly reduce product movement, helping to reduce damage."
Protecting what's in the box
Ms Covone highlights a second industry first by DS Smith – DISCS, which offers comprehensive testing for the kind of stresses a pack could be subjected to during transport. Named after the different types of testing (Drop Impact Shock Crush Shake), it consists of five pieces of equipment, each replicating a part of the product journey and therefore providing real world testing.
"The e-commerce supply chain is extremely complex, with up to 50 possible touch points and it is vital that packaging can survive the journey and guarantee protection of a product. DISCS will ensure that every pack we develop can endure the rigours of the e-commerce supply chain and will assure our customers that all products will arrive safely with the end consumer, even if the pack has fallen off a conveyor belt, been knocked over in a vehicle or taken two or three attempts to be delivered," she concludes.