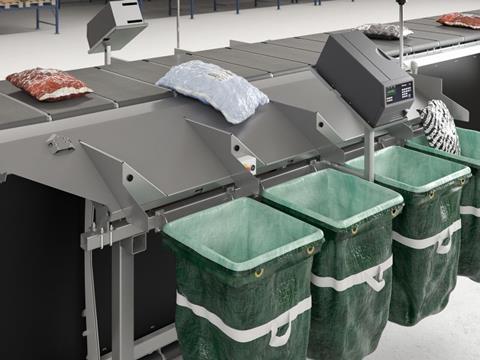 BEUMER Group, a global supplier of automated material handling systems, is launching a new class of line sorter at LogiMAT, Stuttgart Trade Fair Centre, Germany from the 13th to 15th March 2018.
The innovative BG Line Sorter provides an alternative to traditional sliding-shoe line sorters by combining the broad handling mix of a cross-belt sorter within the compact footprint of a line sorter.
The increased handling capabilities are achieved by replacing the traditional sliding-shoe discharge mechanism used on conventional line sorters with active slat-belts. The introduction of active slat-belt technology allows the new BG Line Sorter to overcome the limitations in the handling capability of traditional line sorters. These limitations are caused by the sliding-shoe discharge mechanism which does not efficiently discharge items which are not a standard shape. This limitation means that, whilst line sorters are used extensively to handle boxes, cartons or totes, they are not efficient for handling bagged, fragile, high-friction or thin items such as small polybags. In contrast, the rolling discharge mechanism of the slat-belts handles standard and non-standard items on the same belt and with the same high level of efficiency. The BG Line Sorter therefore extends the handling mix to include standard and non-standard items.
Active slat-belt technologyAlthough active slat-belt technology is a new concept in line sorting, it has been proven extensively in high-speed loop sorters. The slat-belts discharge items by rolling them off the belt into chutes located on either side of the line as seen with the industry-proven, belt-based loop sorters. The belts are manufactured in a high-friction material to ensure precise positioning of each item and they provide extended weight-carrying capabilities. A single slat-belt can accept an item which weighs up to 25 kg. As items can be inducted onto one or more slat-belts, the sorter can handle items with a maximum weight of 50 kg each.
Plug and play installation and easy scalabilityThe BG Line Sorter uses standard modules to simplify installation and provide an adaptable solution which ensures a long-term return on investment.
The standard unit is 2.95 metres long and is pre-assembled with all of the mechanical and electrical components, Information Technology (IT) and controls. Each unit is fully tested and certified in-house by BEUMER Group prior to installation.
The pre-assembled modules allow installation to be achieved using a minimum number of connection points. This ensures fast installation and commissioning to deliver almost plug-and-play operation. The modular structure also provides the flexibility for the system to be easily re-configured, re-positioned or expanded. This allows the BG Line Sorter to be adapted to meet changing business priorities and future-proofs the customer investment.
The use of industry-standard software and controls also contributes to a fast commissioning process. Low-level control is based on a centralised Programmable Logic Controller with distributed Input/Output (I/O). The Process Field Net (ProfiNet) communication protocol ensures stable and reliable communication combined with a high degree of flexibility whilst Infrared Data Association (IrDA) communication is used to interface with the carrier controllers.
The high-level control system is integrated seamlessly with host systems including the Warehouse Management System (WMS); Material Flow Control (MFC) and Warehouse Control System (WCS), in addition to subsystems and peripheral equipment. It can also be integrated with BEUMER Group's Supervisory Control And Data Acquisition (SCADA) system. The high level of software integration provides access to vital management information which can enable the system to be continually optimised for maximum efficiency.
Ultra-low Product Life-Cycle Costs (PLCCs)The need to ensure ultra-low Product Life-Cycle Costs (PLCCs) was another priority in the design of the BG Line Sorter. Unlike conventional line sorters, the BG Line Sorter features Linear Synchronous Motor (LSM) technology.
LSM technology uses permanent magnets to generate magnetic fields which drive the chain of slat-belt units inside the frame. The LSMs eliminate contact between the stationary and moving parts of the drive system which prevents the components from being exposed to wear-and-tear whilst in operation. The elimination of wear-and-tear makes a significant contribution to the sorter's ultra-low PLCCs. A further benefit of the LSMs is that they achieve an ultra-low level of acoustic noise to provide a safer and more comfortable working environment for operators.
Other features which contribute to the ultra-low PLCCs include pre-tensioning of the slat-belts before installation and life-lubricated driving wheels. These features enable the BG Line Sorter to eliminate the need for constant adjustment and servicing which results in a lighter maintenance requirement. The easy accessibility of all the components within the modules further reduces maintenance costs by making maintenance faster and more time efficient.
"Stephan Heessels, Director, Logistic Systems Division, BEUMER Group comments, "The launch of the BG Line Sorter introduces a radical new approach to line sorting. The active slat-belt technology enables the sorter to achieve a capacity of 1,500 to 10,000 items per hour in a compact and flexible footprint. It will also enable logistics companies to increase efficiency by handling an extended mix of items on a single belt."
More info: