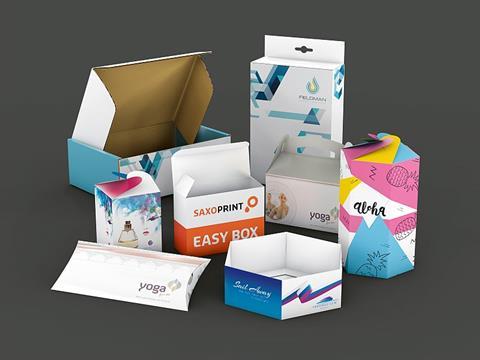 SAXOPRINT presents its customisable outer packaging exclusively for food at the Restaurant & Takeaway Innovation Expo.
SAXOPRINT is attending the industry event with an exhibition stand, various product samples and examples of their packaging solution. With the SAXOPRINT® easy box, customers can design and order outer packaging online according to personal specifications and concepts in millimetre-precise measurements using the online designer software.
With an extensive product range with 25 packaging styles customisable in one billion variations, there is infinite scope for creating a unique outer packaging with the SAXOPRINT® easy box.
But the Restaurant & Takeaway Innovation Expo is not just a stage for products: in addition to well-known speakers such as Rachel Chatterton (Senior Innovation Manager at Starbucks) and Mark Lilley (co-founder and CEO of Abokado), Phil Foster, Senior Key Account Manager at SAXOPRINT, will also take to the stage. In a live seminar presentation, he will demonstrate how easy and quick it is to tailor the bespoke SAXOPRINT® easy box to suit individual needs and will deliver insights on the subject.
SAXOPRINT is also a sponsor of the Innovation Awards, which are held during the exhibition. "Technical innovation, development and environmental protection are top priorities for us as an online printing company," explained Phil Foster, "that's why we are particularly pleased to be able to present the awards in these categories!"