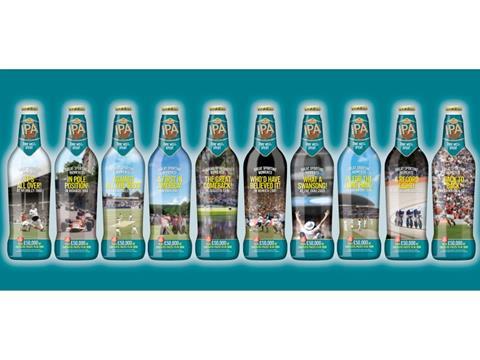 Berkshire Labels has recently delivered a project for Greene King's IPA Great Sporting Moments Limited Edition Bottles.
Berkshire's Digital Sleeves were chosen for their high-quality print and innovative solution that launched 250,000 uniquely numbered, limited-edition sleeves to showcase this summer's promotion.
Forty different SKU's were digitally printed, providing 10 alternating hi-res images that were presented on the bottles. This allows mixed cases, and random images to be presented on the retailers' shelves.
Berkshire Labels' MD, Paul Roscoe, commented: "This was a very exciting project for us all to be involved in. It included some detailed pre-distortion artwork, 3D proofing, supplying pre-production mock-ups, and 250,000 unique digital sleeves."
There were various challenges along the way, but Berkshire still managed to go to print within five days from receiving the artwork: "The whole job was delivered within a fortnight, which is remarkable for a project like this," he added.
The limited-edition bottles detail memorable British sporting moments form the last 60 years, including England winning the 1966 football World Cup, and Team GB's cyclists winning eight gold medals at the Rio Olympics.
More info:www.sleeves.co.ukwww.berkshirelabels.co.uk