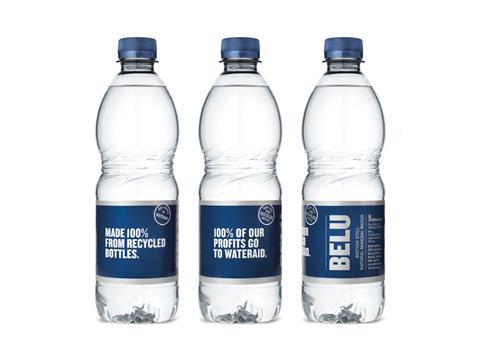 The move from Belu comes as more companies - including Coca Cola - begin to use 100% rPET in their plastic bottles.
CEO Karen Lynch comments: "We have come to the conclusion that where the single-use can't be removed, the answer to our anti-plastics challenge, is in fact, plastic. Our message is to first use less, but when you buy bottles, buy better. Using 100% recycled plastic is the lowest carbon footprint option that can be part of a circular economy.
"Belu is a social enterprise that gives 100% of profits to the charity WaterAid, and our driver is to do the right thing. Making bottles from 100% recycled plastic reduces carbon emissions and other pollutants; nothing new needs to be made as it uses a resource that is already here. It will also create demand and value for recycled plastic bottles which will ultimately fuel investment for better local recycling infrastructure"
By moving to manufacturing 100% recycled PET plastic, Belu estimates that it will generate roughly 60% less carbon emissions than a comparable virgin bottle and about half that of a typical aluminium can (which they argue contains 70-73% recycled content). While cartons are closer in emissions, the company proposes that other environmental impacts become more significant. Belu says that the standard 500ml carton still contains 35% plastic and 5% aluminium foil. Special processes are often needed to recycle them, they say, and collection avenues are limited across the country, reportedly meaning that only 37% of UK cartons are recycled.
"When we looked at cartons, we found that complexities of materials mean that these products cannot be part of the circular economy we so firmly believe in," Lynch continued.
"Whilst we are one of the smaller brands in the market to make this commitment, we know it is the right thing to do, and if we do this successfully, other brands will follow, as they did when we were the first market with 50% recycled PET from 2012."
Belu's new bottles will be released in alignment with its "long-standing" partners including Pizza Hut, Shake Shack, and Pure.