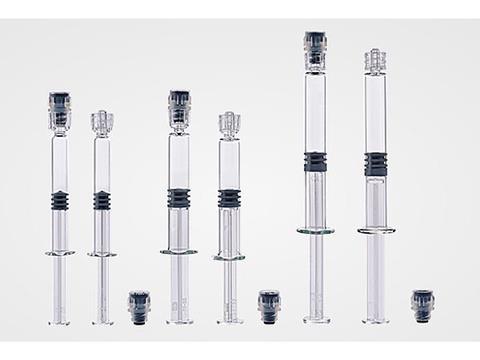 BD (Becton, Dickinson and Company) is presenting BD HylokTM, a new glass pre-fillable syringe for the administration of viscous solutions such as hyaluronic acid dermal fillers, at Europe's dedicated pharmaceutical packaging and drug delivery event, Pharmapack 2019, from February 6 to 7 in Paris, France.
Injection of hyaluronic acid exerts a high pressure on the syringe, due to the product's viscosity. This high pressure may cause needle disconnection and syringe luer-lok adaptor (LLA) rotation, which may lead to leakage. A recent international survey found that 45 percent of dermatologists identified leakage as the main problem with hyaluronic acid syringes. High viscosity solutions have traditionally been administered by dermatologists using both glass and plastic syringes. Glass syringes are preferred by product manufacturers for their inertness and durability according to market research.
BD Hylok is also the first glass pre-fillable syringe that is validated for delivery of intravenous drugs, according to company. It is compatible with main IV connectors and can be used for various indications where time, precision and dependability are essential.
BD Hylok LLA is strongly affixed, using new bonding technology, and reduces the risk of LLA rotation or disconnection. Its LLA thread design provides a safe and robust needle and IV connection with needle as well as with IV connectors.
Peter Nolan, Worldwide President of BD Pharmaceutical Systems, said: "Our expanded portfolio of solutions on display during this year's Pharmapack event, including the recent launch of BD Hylok, exemplifies BD's ability to continuously innovate. By offering a stronger and better connection with needles and IV connectors, this new syringe has an array of medical uses and benefits that will suit multiple needs across the healthcare and medical aesthetics markets."
BD Hylok is available in 1ml long format and additional sizes will be introduced in the future. BD Hylok comes with an extensive data package, to support product or drug manufacturers developmental, technical and registration efforts.