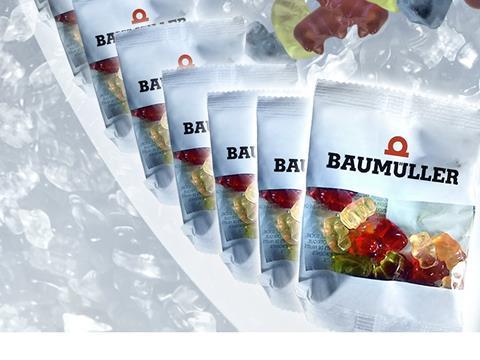 From September 25 to 27, 2017, the packaging industry will once again meet at the PackExpo trade fair in Las Vegas to learn about the latest trends and innovations in packaging.
As an expert in automation for packaging machines, Baumüller will be present at booth 6391 and will showcase systems, components and services as well as its latest developments for the industry. Starting with the project planning, design and commissioning all the way to maintenance and retrofitting, Baumüller offers support to mechanical engineers and machine operators throughout the entire life cycle of machines and systems.
Solutions for Packaging Machines
Numerous companies from a variety of sectors in the packaging industry have been relying on the innovative capacity and expertise of Baumüller for years. Baumüller also plays an important pioneering role in the development of integrated safety-oriented system solutions and highly efficient engine technology.
Baumüller has implemented a particularly dynamic punching machine together with a packaging company. The machine punches cup blanks out of paper. With the complete automation, from the control unit to the motor, Baumüller contributed significantly to the dynamics and efficiency of the new punching machine. The DSD motor series in particular is ideally matched to the requirements of the packaging company thanks to its high power density and extreme acceleration capability.
Product Highlights
There are also new arrivals in the areas of drive technology. The b maXX 5800 servo converter can control up to six axes independently from one another. For example, gantry axes can be calculated within one computer unit. This means that this solution does not require field bus communication between the axes and enables extremely fast communication and response times of 62.5 μs. The dead times of field bus communication as well as following errors are omitted and dynamics and accuracy are increased.
The b maXX 2500 decentralised drive, which combines the converters from the b maXX 3300 series with robust DSD, DSC and DSP servomotors, is especially suitable for packaging machines and filling systems with many individual drives. The b maXX 2500 also has integrated safety of the degree of protection IP 65.
Visitors to the booth can also learn about the broad range of Baumüller drive technologies, including disc motors, various servomotor series, linear motors and decentralized drives. Visitors will also have the opportunity to learn more about services, such as engineering, repairs, retrofitting, etc. In addition to industry-specific hardware, Baumüller can draw on extensive experience in the packaging and food industry to provide comprehensive expertise and numerous library modules that allow quick and easy programming of individual machine solutions.
Expertise and service near the customer
Baumueller-Nuermont Corp., the American subsidiary of the German drive and automatisation specialist Baumüller that is based on Norcross (Georgia), was founded in 1985 and employs about 45 workers. The North American and Mexican markets are serviced by the four locations of Norcross, Mount Prospect (Chicago), Querétaro, Mexico and Mississauga, Canada. All four subsidiaries offer a repair service with its own spare parts warehouse as well as maintenance packages. In addition, motors are repaired and Baumüller components as well as installation are offered at the main office in Norcross. Querétaro also offers machine installations. The trained employees of Baumueller-Nuermont Corp. pass on their specialised knowledge to customers in North America and Mexico.
More info: