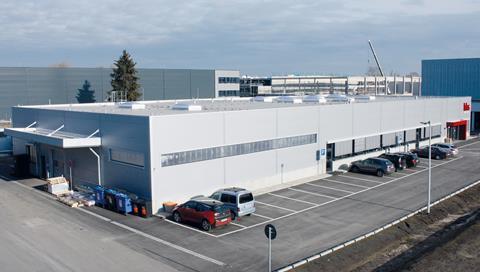 Baumer hhs's 25 employees in Berlin relocated in early January 2019 to a new facility that is contemporary, impressive and designed for optimum functionality. Conveniently located on Max-Dohrn-Strasse in the Charlottenburg-Wilmersdorf section of Berlin and easily accessible by all modes of transportation, the new complex doubles the presence of the Krefeld-based manufacturer of glue application and quality assurance systems in the capital city. The new building has also become an attractive meeting place for visitors from all over the world.
"In Berlin we now have 900 m2 of production and warehouse space and nearly 700 m2 of office space to support our company's continued growth. What's more, the new building offers existing and prospective customers the perfect setting in which to discuss and evaluate innovative gluing applications with our specialists," says Baumer hhs General Manager Percy Dengler, underlining the advantages of the new facility at the official opening on 2 January 2019. Like the Solution Centre at headquarters in Krefeld, the new building in Berlin, for instance, has a testing lab that specialises in quality assurance. Traditionally the Berlin site has always been committed to the development and production of Baumer hhs's quality control solutions. This is where the company for years has manufactured its sensors, Xtend controllers and intelligent camera systems for monitoring complex gluing applications in a variety of industries.
The ground-level production area is streamlined to the latest standards and designed to cater to employee needs. "In this building, we have enough space for modern flow production operations. Because the individual processing steps are tailored to the latest methods, all materials and tools needed for each step are available at the work stations at all times. That means no superfluous trips or wait times," says Production Manager Marcus Stein. This new and innovative type of organisation offers several advantages: It enhances employee motivation, supports improved quality control and enables shorter delivery times.
The new Baumer hhs site, located on the grounds of Baumer Hübner, also has room for future expansion. Baumer Hübner is a competence centre for heavy duty sensors used in drive systems and, like Baumer hhs, a company of the Baumer Group, based in Frauenfeld, Switzerland.
With its modern new facility in Berlin Charlottenburg-Wilmersdorf, Baumer hhs has doubled its production and warehouse space in the German capital, established new opportunities for its production operations and opened a customer Solution Centre for testing new applications in quality assurance.