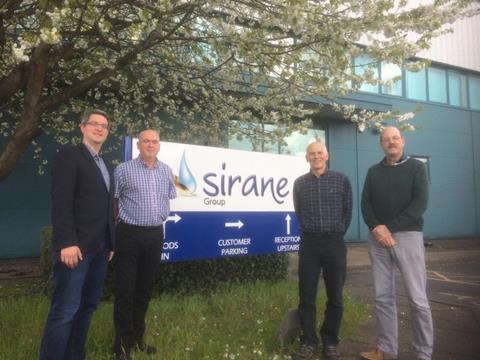 SIRANE has acquired flexible packaging manufacturer B&G Products in a move which expands Sirane's product range and allows for expansion at B&G.
B&G Products – a UK-based manufacturer of bags and pouches – has become part of the Sirane Group, with the sale for an undisclosed sum going through yesterday.
The partnership will allow Sirane to access new markets, and to expand the B&G business through our existing client base both in the UK and overseas – and has come with an additional immediate investment in new machines alongside the purchase.
Simon Balderson, Sirane MD, said: "B&G Products is a great company with huge potential, and their product range complements Sirane's existing business perfectly. In fact we've worked with them over the last few years on a number of projects, and got to know the team, their capabilities, and the quality of what they manufacture.
"B&G Products becoming part of the Sirane Group will allow it access to our international network and this is the first step on what should be a very exciting path."
Nick Baxter, B&G Products MD, said: "We've worked with Sirane for a number of years now, and so I'm happy the company is in safe hands. This is a partnership that makes sense for all concerned, as both Sirane and B&G Products can benefit from each other.
"There's a great opportunity now to further cement both companies' place in the market as the go-to company for all types of innovative packaging solutions. I think everyone concerned is excited about what the future holds for Sirane and B&G Products."
B&G Products, based in rural Staffordshire, is a manufacturer of high-quality and innovative bags and pouches with more than 30 years' experience in the sector. Around 30 people work at the site in Norbury, and all staff will remain in place as part of the sale.
Peter Ralten, Commercial Director at B&G Products, said: "It's been great working alongside the team at Sirane for several years now and I'm very pleased to become part of Sirane as shareholder, and for B&G Products to officially become part of the Sirane Group. "It's an exciting future for all involved, both at Sirane and at B&G Products."
Recent innovations from B&G include the Earthpouch – a plastic-free stand-up food packaging pouch – and anti-bacterial insulated bags. Other products on offer retort & microwave stand-up pouches, side-gusset bags, mail order bags and more.
They also offer short-runs on digitally-printed products including bags & pouches.
Simon Balderson added: "There's so much interest in products such as the Earthpouch, and other stand-up pouches, that we've already agreed a six-figure investment on a new stand-up pouch machine, which can also manufacture side-gusset and flat pouches.
"B&G joined us earlier in the year at Packaging Innovations at the NEC, with the Earthpouch forming part of our stand, and we were absolutely inundated with inquiries.
More info: