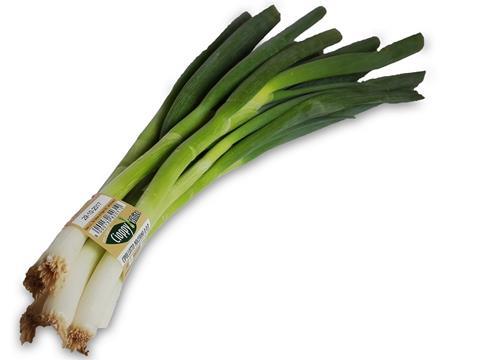 Certain vegetables, such as spring onions, leek stalks, bunches of parsley or celery are often sold unpackaged.
The irregular shapes make it difficult to label and "brand" these types of vegetables. When using the Bandall veg bander, it is not only easy to bundle these bunches and stalks, but also to label them and provide them with branding information. A magnificent form of Branding by Banding™.
From bundling bananas to bundling spring onions, parsley and celery
The new Bandall veg bander is a modular Bandall banding machine that is able to bundle and label various bunches of vegetables quickly and easily. Initially, this banding machine was specially developed for "branding" and bundling bunches of bananas. When a marketing manager of an Italian company saw a video of this, he ordered the same machine, except that he wanted to use it to bundle and "brand" bundles of spring onions. When this proved to be a success, he also started to band other unpackaged vegetables, such as bunches of parsley, leek and celery. This also turned out to be a success.
The Branding by Banding labelling method by Bandall and Specialised Printer Max Aarts offers benefits in many fields. The printed banding replaces twines or rubber bands and provides a complete bundling and labelling method. In other cases, the band replaces alternative packaging, such as plastic trays with self-adhesive labels or printed plastic bags. Moreover, thanks to the ultra thin banding material, huge savings can be achieved on packaging material. This fits seamlessly in a trend whereby more and more unique as well as environmentally friendly packaging solutions are introduced.
Logos, best before dates, recipes and even storytelling with banding
The unique, patented Bandall band transport system ensures that the printed banding is always firm and tight around the bushes of vegetables. The printed banding also provides the required branding with logos, slogans and other house style characteristics. Moreover, the banding provides more than sufficient space for origin data, recipes, bar codes, best before dates, etc.
At the same time as bundling, various types of information can be printed on the banding. This is possible on several places on the banding and also across the entire width. Some marketeers and traders also have the back of the banding printed, with the story behind their company (storytelling) for example, or with recipes using the vegetables concerned that stimulate sales.
More info: