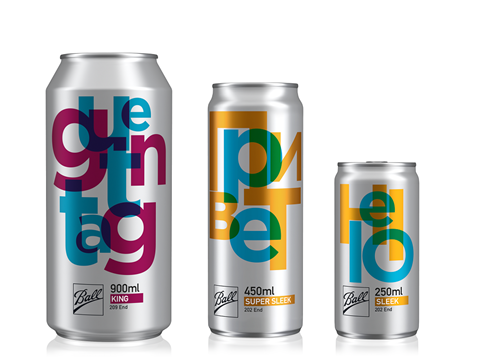 Reflecting the increasing segmentation of the beverage market, leading global can manufacturer Ball is marking its presence at drinktec 2017 by unveiling three new can formats. The three new can sizes include 25 Cl Sleek® and 45 Cl super Sleek® cans, as well as a 90 Cl King can. The new varieties add to Ball's already vast portfolio of cans, which will also be displayed at the show this year.
Both the 90 Cl King and 45 Cl super Sleek cans have been launched in Russia, bringing to the market an effective packaging solution addressing the recent market pressures on excise duties to alcohol. Designed primarily for Russian brewery customers, the cans will be displayed on Ball's one-of-a-kind 'Can-shi' bar throughout the show with company experts available to discuss the unique design in greater detail.
Irina Dolyanovskaya, sales manager at Ball, comments: "The new 90 Cl and 45 Cl cans allow our customers to maintain their products at an affordable, standard price on shelf. These can sizes are seen as more premium and are becoming the new industry standard for the Russian beer market, gradually replacing standard 50 Cl cans. Although created primarily for the Russian market, we have seen demands for similar can sizes in other countries. We are hoping to gain even further interest from new customers during Drinktec."
Launching in western Europe after drinktec, the new aluminum 25 Cl Sleek can with its 202 end has been designed to make it easier for filling locations to adopt the Sleek can, with customers including NESTLE Waters. The new can was chosen by San Pellegrino for its new fizzy tea range, which is available in peach and lemon flavors.
Marianne Freund, marketing manager at Ball, comments: "These three new can sizes are a prime example of how our customer needs are at the heart of what we do. With customers continuing to present Ball with unique requirements, our wide range of cans continues to evolve to meet their needs within their specific markets. Ball promises to listen and respond to these needs in the most effective way possible by identifying the right packaging solution for the right occasion. We are dedicated to innovating cans that truly fit to the consumer."
Ball's dynamic drinktec stand will feature the latest additions to the product range, interactive displays, samples, and opportunities for visitors to discuss innovative packaging solutions with experts. Ball's 'Happy Hour' events will also be taking place and will focus on beverage categories including craft beer, water, juice, tea and coffee.
Ball's drinktec booth can be visited at stand 348, Hall A1.