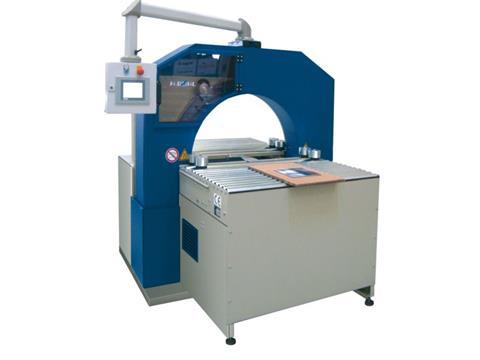 The BÖHL company known for its high quality wrapping and banding equipment is showing a newly designed fully automatic Horizontal "Tray Pack" Wrapping machine model TVP600 for securing products such as spare parts, motors, print boards, car heaters or other products onto card board trays with stretch film.
"Tray Pack" is eliminating the need for carton filling material therefore reducing packaging costs substantially. The machine is equipped with a user friendly high resolution HMI display and a unique height adjustment system to accommodate a wide variety of products to be packed.
In addition BÖHL is also demonstrating a fully automatic Inline-Banding Machine for applying paper and plastic bands around food products such as meat, fruits, etc. The unit is equipped with a thermo-transfer printer for printing production data and barcodes onto the band before being applied to the product. This machine model is frequently sold to suppliers of supermarket chains and enjoys large popularity as it can be easily integrated in modern production lines. It is suitable for wet, damp and cold production environments. With this new development BÖHL demonstrates the ability to meet the needs of the food industry in terms of reliability, speed and cost efficiency.
Interpack 2017 – Booth 12C48
More info: