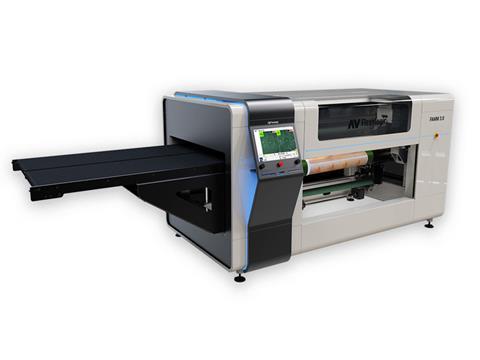 AV Flexologic, a manufacturer of automatic mounting and pre-press equipment, has launched what it says is the "world's fastest and most accurate flexo plate mounting machine".
Speaking on the functionalities of the new machine, a representative from the company commented: "The FAMM 3.0 provides incomparable speed, repeatability, and accuracy. It has been developed for our customers who demand the highest standards and aim in an optimized and highly efficient pre-press workflow, that allows an enormous increase in their capacity and a higher overall print quality with fast changeovers. The patented FAMM 3.0 is the ideal solution for short and frequent job runs. This machine has been completely redesigned during the past 2 years and it is equipped with updated software which allows more synchronous movements. This intelligent system controls the interactive cameras that read the digital positions of the mounting marks using the patented Image Recognition and a robotic manipulator that picks-up the plates and positions them with extreme accuracy down to 2μm.
"The FAMM 3.0 features state-of-the-art linear motors technology which is able to accelerate with 10ms/2. An upgraded feature of the FAMM 3.0 is the split conveyor belt which is able to identify the plate from the bottom and to read QR codes. The conveyor backlight and laser line allow plates to be aligned easier. In addition, the pick-up unit is completely re-designed, and it is used to transfer the plate from the conveyor belt to the mounting position. Using robotics, the flexo plate is automatically positioned with an accuracy of 2 microns. The next generation FAMM is able to mount one plate in 29 seconds thanks to the second pressure roller which allows more synchronous movements."
The FAMM 3.0 will be showcased for the first time at Drupa 2020 in Dusseldorf. Personalized demos will be given during the show at AV Flexologic's stand #B22 in Hall 10.