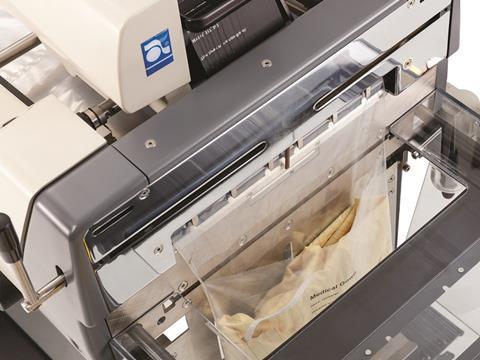 Automated Packaging Systems has launched two versatile machines with high-speed productivity, the Autobag® 500™ and Autobag® 550™ baggers, at PPMA, the UK's leading event for processing and packaging machinery, held at the NEC, Birmingham from 26 – 28 September.
The new products are not only suitable for a wide range of packaging applications, they also deliver its most reliable, efficient and cost-effective solution yet, and full demonstrations will take place throughout PPMA, offering attendees the opportunity to experience the range's complete benefits and liaise with key personnel on the stand.
Features include a speed cycle of 45 bags per minute, next-bag-out printing to prevent product queuing and reduce waste, multi-position unwind with tension control which simplifies changeovers and an AutoTouch™ control screen for ease of use as well as network integration to facilitate central monitoring.
The culmination of more than 50 years' experience combined with the latest technology, the baggers are the most advanced to be brought to market from industry leaders Automated Packaging Systems.
The series also includes a newly designed bag sealer area which, combined with improved temperature control and optional seal-flatteners, ensures consistent, high-quality seals.
Steve Dougan, European Product Manager for Automated Packaging Systems, explains: "It's still recognisably an Autobag but under the skin there's been a major overhaul. We've kept the features critical to success, such as the seal flatteners, and the bags aren't changing, so there's no stock issues.
"The Autobag 500 is on a slightly smaller footprint, has been solidly engineered to ensure it upholds the reliability legacy, and based on the same platform as the proven Autobag 850S.
"Automated Packaging Systems is very proud of its new series. We believe this will have a real impact on the market and change how many of our customers operate."
"The new series brings together decades of experience in both producing packaging solutions and understanding the needs of our customers, with the implementation of advanced technology to bring more efficient packing systems that can speed up processes whilst capturing data that customers can analyse to improve operations."
The Autobag 500 series offers easier and faster loading, even for bulky and hard to handle items. Featuring an innovative adjustable pass-through, this automatically opens the bag much wider than traditional systems to enable access, and with no light curtains and less guarding, they offer unrestricted access to the pre-opened bag without compromising operator safety. The next-bag-out printing feature is achieved by positioning an advanced thermal transfer imprinter directly over the next bag to be loaded. This ensures accuracy and efficiency in applications that require frequent product and label changeovers, prevents product queuing and eliminates a separate labelling operation.
Dougan concludes: "The Autobag® 550™ bagger is a technologically-advanced, automatic filing and sealing machine designed for reliability, flexibility and optimising packaging throughput.
"Capable of cycling at speeds up to 45 bags per minute, this system was designed to maximise machine uptime while lowering total cost of ownership."
More info: