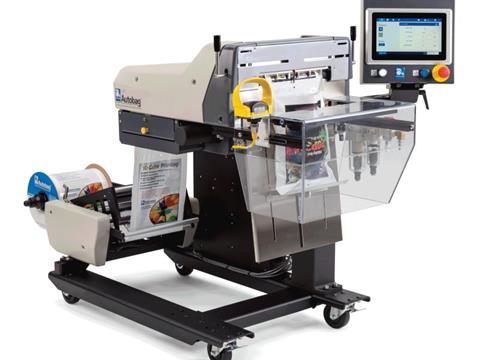 Automated Packaging Systems has announced the introduction of a new series of bag packaging systems with advanced technology and ergonomic design for maximum productivity.
The Autobag® 500™ and Autobag® 550™ baggers are versatile machines with high-speed productivity for a wide range of packaging applications. They are the most advanced in a long line of market-leading bagging systems, built on more than 50 years of Automated Packaging's know-how and customer insights.
Autobag 500 series offers easier and faster loading, even for bulky and hard to handle items. An innovative adjustable pass-through automatically opens the bags much wider than traditional systems. And with no light curtains and less guarding, they offer unrestricted access to the pre-opened bag without compromising operator safety.
An improved, multi-position unwind with tension control provides faster changeovers and an AutoThread™ function that reduces waste. The Autobag 500 is capable of bagging at 100 bags per minute into bags ranging in size from teabag to pillowcase. The Autobag 550 adds a fully integrated AutoLabel printer to the same basic design, positioned directly over the next bag to be loaded, eliminating the need for a separate print and label operation.
These new systems offer users a faster rate of return on investment and lower cost of ownership, as well as greater connectivity and integration flexibility. The user-friendly Android-based HMI utilises an intuitive, graphic-based interface for simplified set-up and operation. Built-in memory function stores data for faster changeover between jobs.
Both Autobag 500 and 550 systems have been engineered to meet global safety and quality requirements, including CE and CU certification. They feature fewer wear items, faster operating speeds, easier loading, and high reliability, making them ideal for bag packaging applications in aerospace, automotive, electronics, hardware, apparel, healthcare, pharmaceutical and many more sectors.
European Product Manager Steve Dougan offers his insights into the NEW Autobag 500 Series: New Autobag 500 Series replaces our flagship AB 180, the system on which we've built our reputation for excellence and reliability. The Autobag 500 is a worthy replacement for our AB 180, which after 18 years can certainly be said to have stood the test of time.
It's still recognisably an Autobag but under the skin there's been a major overhaul. We've kept the features that have been so critical to success, such as the seal flatteners, and the bags aren't changing, so there's no stock issues. The Autobag 500 is on a slightly smaller footprint, has been solidly engineered to ensure it upholds the reliability legacy, and based on the same platform as the proven Autobag 850S.
There are two systems in the series right now; the Autobag 500 and the Autobag 550 with its inline printing capability. Both have been developed by our product R&D team in Streetsboro, OH, USA, which has a great track record in retrofit options, so I'm looking forward to seeing more additions to the range over the coming months. Meantime, there's a range of configuration options, all designed to optimise production and improve integration.
More info: