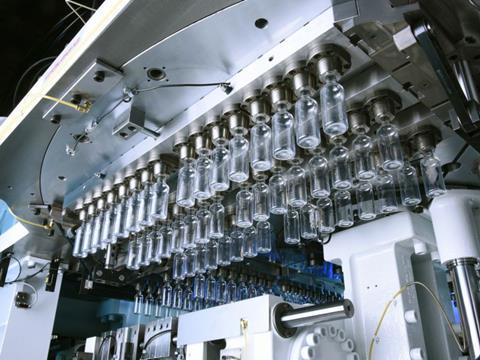 Nissei ASB Machine Co., Ltd., manufacture of machines for injection stretch blow molding of PET and other plastics, will exhibit at the Chinaplas 2018 exhibition (Booth 8.1D75), to be held in Shanghai, China from April 24th to 27th 2018.
Live molding will be demonstrated on ASB's 210 square meter booth together with a display of some of the most interesting recent updates in injection stretch-blow molded packaging technology.
Chinaplas 2018
Chinaplas continues to grow annually and is well established as Asia's largest plastics & rubber trade fair. In 2018 it will return to Shanghai where it is predicted to exceed 2017's attendance figures of 3,465 exhibitors from 38 countries, and over 155,000 visitors, by around 7-10%. As such, it is one of the key opportunities for ASB to exhibit its products to a growing audience.
ASB-150DPX One Step Injection Stretch Blow Molding MachineAt Chinaplas 2018, Nissei ASB's triple row, high output ASB-150DPX model for small bottle production will be making its regional debut with daily live molding demonstration of a complete molding system.
The recently developed ASB-150DPX expands the company's flagship ASB-150 based models to three variants;
- ASB-150DP – Single row molding up to 16 cavities, for very large bottles and jars
- ASB-150DPW – Double row molding of medium sized bottles and jars up to 32 cavities
- ASB-150DPX – Triple row molding of small bottles in 24, 36 or 48 cavities
All models are built on a common architecture so factory layout, key functions, spare parts, maintenance and operator training are common to all, however the newly added DPX model has specific design features to maximize efficiency in small container molding;
1. Injection clamping stroke is optimized for short cycle small containers.
2. Upgraded hydraulic components provide faster cycle of injection clamping while maintaining smooth machine movement.
3. Servo hydraulic pumps as standard offer up to 30% reduction in energy consumption.4. Blow air circuit is optimized for small container production offering up to 50% reduced air consumption over standard systems.Although these features were introduced for the ASB-150DPX, items 2, 3, and 4 are also planned to be available in future updates of its stable-mates ensuring that the entire model range maintains its lead over the competition.
Triple row one-step injection stretch blow molding is another in a long line of global firsts that Nissei ASB has achieved throughout nearly 40 years at the forefront of the PET container industry, with several areas of the machine design having patents pending or already approved.
At Chinaplas, the ASB-150DPX will be conducting daily molding demonstrations of a 180ml, 11.4-gram yoghurt drink container having a standard 38mm neck. This lightweight container design requires a very short preform that would be impossible to handle and re-heat in a two-step system so the one-step molding process, where the container is formed directly from resin within one machine and held securely by its neck throughout, is the only practical choice. The smaller the container is, generally the more advantageous it is for production using a large one-step machine with high outputs.
With its triple row molding layout allowing 36 blow cavities, and at a cycle time of 7.5 seconds the ASB-150DPX will achieve a production rate in excess of 17,200 bph. Even if a container design such as this could be molded by re-heat blow molding, the required floor area for a similar capacity two-step production unit is typically 3-4 times greater, so this one-step solution provides not only technical superiority and enhanced quality, but manages to achieve it in a significantly reduced production space.
With the recent rise in prices of PE/PS materials, demand for PET conversion of this type of small container is increasing with numerous specific inquiries from major food manufacturers so the company is confident of good demand for this new model.
The exhibit will also be demonstrating a full line of matched molding ancillary equipment that ASB is able to supply, such as resin dryer, chiller, mold dehumidifier and mold temperature controllers. An in-house custom designed pick and place take-out unit with conveyor system will also be demonstrated allowing prospective customers to easily install the molding machine up-stream of a filling line.
More info: