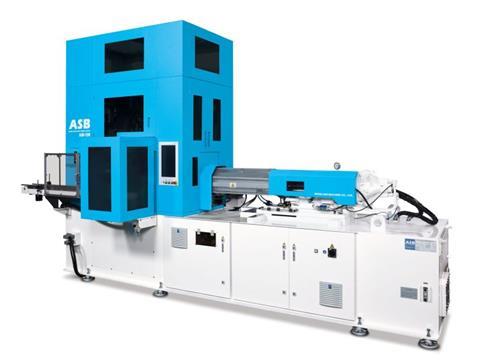 Nissei ASB Machine Co., Ltd. (Head office: Komoro-shi, Nagano-ken, Japan - President: Junichi Miyasaka) will exhibit at the NPE 2018 exhibition (Booth S19045), to be held in Orlando, USA from 7th to 11th May 2018.
Live molding will be demonstrated featuring five machine models together with a display of some of the most interesting recent updates in injection stretch-blow molded packaging technology.
NPE 2018 In 2015 the NPE exhibition set new records by attracting 2,029 exhibitors from 37 countries in a floor area of more than 104,000sq.m. More than 65,000 registered visitors attended, showing a 19% growth over the previous exhibition. Most importantly, the quality of the visitors is traditionally very high with the majority representing their respective companies as senior management with strong decision-making power. In 2015, 44% of exhibitors and 26% of visitors were from overseas. As the largest plastics exhibition in the Americas, and the US economy showing strong growth, NPE 2018 is expected to exceed the records set in 2015 making it one of the most important marketing events for Nissei ASB to attend. Reflecting consistent sales growth over the last 3 years, ASB will represented by its largest ever presence at NPE with a 740-square meter booth and five different machine models making live molding demonstrations molding a variety of products that showcase the versatility of the company's technology and integration with the Internet of Things.
Featured models will include:
1. ASB-12M v2 – Entry level & niche market four station one step injection stretch blow molding machine featuring next-generation control system and radically shortened cycle time for heavyweight cosmetic containers using standard PET resin.
2. ASB-70DPH v4 – Superbly versatile mid-range four station one-step injection stretch blow molding machine demonstrating visually perfect molding of Tritan Co-polyester resin.
3. ASB-150DPX – World's first triple row, one-step injection stretch blow molding machine molding in 48 cavities and over 20,000 bottles per hour
4. HSB-2M/6 – 2-step re-heat stretch blow molding machine featuring ASB's double-blow heat-set technology for heat resistant large necked jars.
5. HSB-6N – 2-step re-heat stretch blow molding machine featuring ASB's doubleblow heat-set technology for heat resistant beer bottles complying with the industry standard tunnel pasteurizing process.
The booth will also be exhibiting a full line of matched molding ancillary equipment that ASB is able to supply, such as resin dryers, chillers, mold dehumidifiers and mold temperature controllers. In-house custom designed pick and place take-out units with conveyor systems will also be demonstrated allowing prospective customers to easily install the molding machines up-stream of other processing equipment or a filling line.
All models will be operating on a daily molding schedule and the booth will include a wide range of samples and displays of other specialized technologies from ASB.
More info: