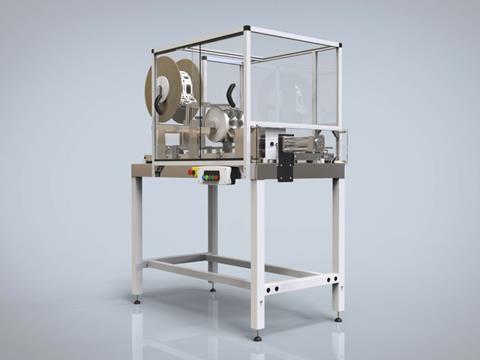 WaveGrip, manufacturer of innovative beverage multi-packing solutions, is launching a new automatic version of its entry level G1 applicator for lower volume beverage producers.
The G1 can create multi-packs of 4, 6 or 8 cans, with automatic pack separation and accommodates a full range of can heights at speeds of up to 100 cans per minute (cpm).Built to the same quality and standards of the larger G2 and G3 applicators, the G1 includes an Allen Bradley PLC Control and is backed by an experienced engineering support team who ensure seamless installation and integration into each canning line.
The low entry cost of just £12,000 and compact size of 1.4m x 0.8m, make the G1 perfect for those at the earliest stages in drink production, especially for production at lower canning volumes, such as craft beer producers.
Compatible with all WaveGrip carriers the G1 uses the standard WaveGrip reels which can pack over 3000 6-packs, and allows a run time of five hours at 60cpm or three hours at 100cpm.
"We have been overwhelmed by the interest in WaveGrip's multi-packing solutions and the launch of our new G1 is another exciting development for our entry-level customers," comments Aaron McIvor, Managing Director, WaveGrip.
"We have listened to their requirements and with the new G1, created an automated applicator that has a low entry cost, small manufacturing footprint and required volume output.
"Combined with the benefits of our lighter, stronger, recyclable and photodegradable WaveGrip carrier, we believe the G1 is now the perfect multi-packing solution for craft brewers and other lower volume beverage manufacturers."
More info: