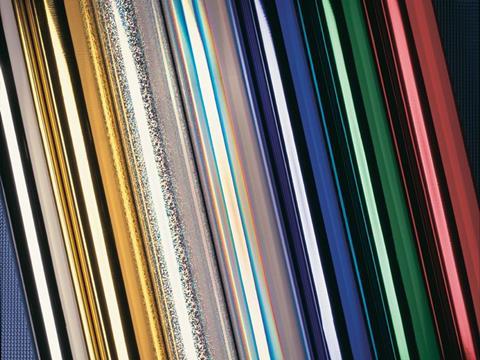 API will launch its new and improved TA+ cold foil at LabelExpo Europe in September as it continues to focus on delivering cutting-edge brand enhancement products for the labels and packaging industry.
Visitors to stand 6A23 can discover how the TA+ cold foil, API's most advanced cold foil to date, offers pack designers and printers exceptionally fine detail and the capability to cover large solid areas, as well as outstanding over-printability, meaning there is no limit to the range of colours and effects they can produce.
The new generation of API's cold foil range, the TA+ cold foil is designed for sectors whose products require filmic labels, such as personal care; drinks, including wines, beers, and spirits; home and household care; and some industrial applications.
Also on display at the API stand will be the company's custom decorative holography service, Holonique™ Boutique, through which it provides customers with its market-leading expertise in the use of holography and 3D designs.
"We are very excited to be launching our new TA+ cold foil at LabelExpo Europe, and are inviting all designers, printers, and brand owners to come and learn about the exceptional boost both it and our wider range of brand enhancement products can give to their brands," says David Peters, API's Creative Development Manager.
API works closely with customers throughout the design process, helping them find the most effective pack enhancement effects that add value to their brands. David will be on the stand to showcase API's latest trend boards, which capture the key evolving themes in packaging design to provide brands with stand-out shelf presence.
More info: