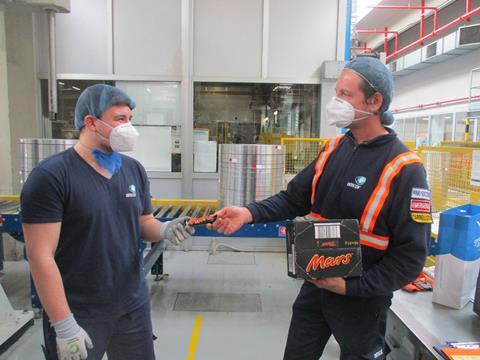 How do you see coronavirus impacting more generally on packaging / FMCG, and do you have any suggestions as to how the industry can mitigate these impacts?
It's clear the pandemic has created spikes in demand for certain FMCG products, particularly personal and home hygiene and packaged foods.
In countries where eating out regularly is a cultural norm, consumers are buying food and beverages from supermarkets to fill this gap – so overall consumption of FMCG appears to be up.
What we don't yet know and can't forecast is how this will play out as the pandemic continues to evolve – and this will differ by region and even by country. Just this week, we are seeing some countries ease up on restrictions. We are monitoring the situation closely.
What will remain is that people want fresh food and beverages, conveniently packaged for easy consumption and storage, and in packaging that can increasingly be recycled and reused. The most important things we can do as partners with FMCG companies is first to maintain supply throughout the pandemic, and also to continue progress on our shared sustainability agenda.
Are there any broader lessons about packaging that industry – or society – should draw from the pandemic?
I think there has been a renewed appreciation for the role of FMCG and packaging in our lives. Supply chains that deliver goods to supermarkets and on to our homes perhaps didn't warrant much consideration. They are now front of mind. We are all thinking more about how to keep pantries stocked and fresh food on tables, and how to get the products we need to stay healthy and keep our homes clean.
Coronavirus has seen private companies, governments and authorities, NGOs and community organizations work together at a pace and scale that is unprecedented. By maintaining this collaboration, we can accelerate our efforts to address two other urgent global challenges: food waste and carbon emissions.
We know that around a third of food produced for human consumption every year – approximately 1.3 billion tonnes – gets lost or wasted. This is intolerable at a time when the Food and Agriculture Organization of the United Nations (FAO) reports that more than 700 million people were exposed to severe food insecurity in 2019. According to the FAO, the climate change impact caused by wasted food equates to about 8 percent of global annual carbon emissions; nearly on par with global emissions from cars, trucks, airplanes, trains and ships combined. This represents a pressing environmental and social concern.
Expertly engineered packaging has a big role to play in tackling this challenge and Amcor has a proven track record of innovating for sustainability. Our R&D function is working to develop packaging that is as resource-efficient as possible while protecting products and keeping perishable goods safe and fresh, which also minimizes food waste. They have mastered a range of strategies to reduce the carbon footprint of our packaging while improving product protection; more post-consumer recycled content, raw materials with lower carbon footprints, using fewer raw materials through product lightweighting, and designing packaging that can be disposed of through lower-footprint waste streams such as recycling or reuse.
Amcor's lifecycle assessments show that efficiently protecting the product inside our packaging is the most important way to reduce its overall footprint. This is because the resources required to manufacture a product are often far higher than those required to produce its packaging. If a product's packaging fails, the resources invested in growing, processing, and transporting the contents are wasted. But this is only part of the carbon footprint solution. We also need to move to a circular model and design waste out by increasing the collection and recycling of packaging.
Amcor's global team has an unwavering focus on developing even more responsible packaging. Progress towards our 2025 commitment continues at pace.