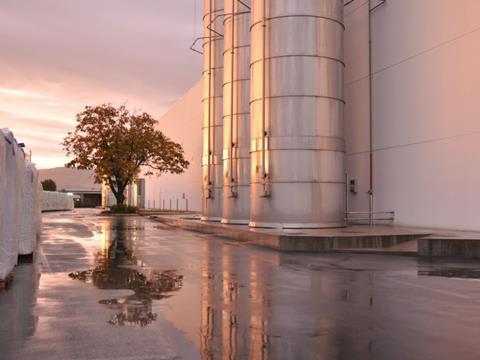 Following the positive trend of the business results, a multi-year investment plan and an advanced product innovation model, AMB - a leading Italian company in the manufacturing of layered film for food packaging - announced its development plan and the opening of a new plant alongside the historical headquarters in San Daniele del Friuli at interpack 2017 (Düsseldorf – Germany, 4-10 May).
This choice originates from the desire to offer an increased production capacity and connected services to its customers, who will rely on an even stronger industrial partnership, able to support the most challenging growth plans.
The new plant is larger than 25.000 sqm and will host production, logistics and administrative offices. It is situated in the North East of Italy, not far from the current premises, more precisely in Amaro (Udine) in an even more central geographical area to the originally targeted international markets.
The approximately 6.6 million investment and some strategic and operational decisions have enabled the site to be ready right from the start. In June 2017 the office area and the finished product cutting area will be moved here and the outbound logistics services will be combined.
The progressive increase of the production capacity will be allowed by the purchase and installation of new extrusion plants and the first Cast production will be completed by 2017, thus enabling AMB Spa to achieve an overall productivity equal to 65.000 tons, 15.000 of which from the new production plant in Amaro; these figures will double according to the 2018 forecasts.
The 230 people currently employed in the first AMB Spa premises will be partnered by 41 employees in the second plant, soon reaching a total number of 110 in the latter.
The 2017-2018 expansion investment by AMB Spa equals to 15 million Euro and allows to forecast an over 100 million Euro turnover in 2017 (2016 turnover was 89.3 million Euro). 2018 aims at reaching a 113 million Euro turnover.
"AMB Spa consistent growth and the desire to act as strategic partners in our customers' growth plans - Chairman Bruno Marin says - have led us to find new production, logistics and management spaces. The site is situated in an important geographic area which allows us to reach the international markets even faster. More jobs, more productivity and reliability for the customers; the innovating push for which AMB Spa has always been renowned for is confirmed once again, featuring technologically performing products which meet the customers' needs and advanced services. These range from design to delivery of the finished products, with their complete management.
The commitment by AMB Spa for a sustainable and steadfast production is shown from important projects undertaken only in the last three years. Projects, that after the experimental starting phase, have become reality and pave the way for market trends of quality food packaging.
Today, AMB Spa is able to produce products using recyclable single component materials, divided into various layers and used for different purposes. The design, organization and production capacity allows to offer customers a complete packaging solution, from the bottom to the cover, as well as as a consultation service guiding customers through each stage of their projects.
A completely water-based production_AMB was the first company in Europe since 2014 to pave the way to a water-based production, the revolutionary process which completely eliminates the use of solvents.
In the space of only three years, the company uses 100% of the layering and water-based technology, with significant investments in plants enabling to increase productivity, to accelerate the process with no material and energy wastage, with a perfect quality.
The success of AMB Spa water-based production goes beyond the figures and highlights a strong environmental awareness of many companies who are increasingly interested in a growth based on environmental- and customer-oriented technological innovation. The water-based production was a real revolution for the plastic industry with significant advantages. Solvent-free technology prevents unwelcome substances from migrating among food products, yet preserving an excellent production quality, in order to preserve the same colours, graphic versatility, possible solutions and eye-catching finishes. The water-based technology is a competition advantage for all of the companies offering food products with quality ingredients, environmental protection and who want to meet in advance the increasingly strict packaging requirements.
Skin packaging, right thickness and better performance. Thanks to a partnership with Multivac, AMB Spa has launched another project focussing on sustainability, safety and waste reduction: the Multifresh production. 2016 saw the launch of the experimental stage and today Multifresh has brilliantly solved the typical issues connected to packaging fresh and cured meat, with above-average wrapping properties, stronger barrier to oxygen and a skin effect which allows to see and touch the product with no alterations. Multifresh is an ideal product for a cutting-edge wrapping and it allows to reach a 21 day shelf life, helping to prevent food wastage.
Multifresh, thanks to the water-based prints, combines technical features related to safety and preservation with the matchless aesthetics by AMB Spa's designers in order to enhance and present the food products characteristics in the best possible way.
Wastage cut downIn cooperation with one of the leading manufacturers of food packaging and medical machinery, by a technical synergy based on sustainability and ethical sense, AMB Spa makes its films available for this very purpose, thus contributing to pave the way to most innovative change in MAP and SKIN packaging systems. This will allow to cut down on 3-5% of film wrap usually related to waste production.
More info: