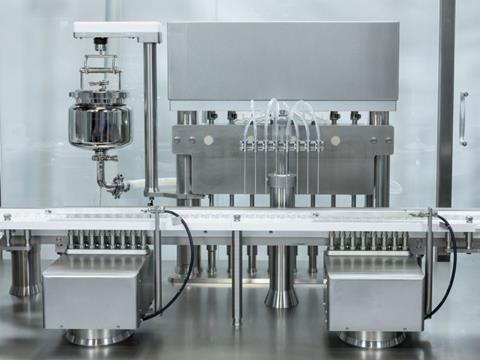 Ampoules, vials or both container types on one machine: pharmaceutical manufacturers can choose between three different versions of Bosch Packaging Technology's ALF 5000.
With the vial-only version, Bosch has recently completed its proven machine series. The most important novelty of the platform is its 100% in-process control (IPC), which ensures accurate filling volumes at all times. The filling and closing machine further offers an output of up to 600 containers per minute while securing continuous process safety and quality.
At interpack 2017 in Düsseldorf, Germany, Bosch presented the new vial version of the ALF series to interested trade fair visitors for the first time. To date, customers could fill either ampoules, or vials and ampoules on a combi machine. Now the proven platform is also available for vials only. At interpack, Bosch showcased the new version with 100% in-process control. During this process, the ALF 5000 weighs the containers before and after filling in order to achieve exact filling volumes at all times. This provides a competitive advantage, especially for manufacturers of cost-intensive medicines such as cytostatics.
Safe, gentle and hygienicThe filling and closing machine's transport system allows for especially safe processing: The carrying rake transport system ensures particularly gentle handling of glass containers. The device seamlessly switches from a continuous to an intermittent operating mode and slightly lifts the glass containers to prevent them from rubbing against the machine guide.
The transport system also ensures highly hygienic processes. The system is activated solely via rotary movements from the base unit. Since the lever used for the rotating motion is easier to seal, the machine design prevents particles from entering the filling area. "The rotating movement minimizes the risk of contamination by lubricants and other materials. This way, the ALF 5000 supports the hygienic filling of liquid pharmaceuticals," Tobias Göttler, product manager at Bosch Packaging Technology, emphasizes.
Flexible adaption to different production scenariosThe ALF 5000 also offers a wide range of filling systems: The platform can be equipped with all established filling systems such as peristaltic pump or time-pressure-filling system and optionally comes with four, six, eight, ten or twelve filling points. Customers can further choose between different infeed and outfeed versions. "The result is an especially flexible solution that can be tailored to specific customer requirements," Göttler explains.
The ALF 5000 is available in different layout versions – left and right-handed –, which makes it flexibly adaptable to existing production sites and workflows. Due to its compact design, the ALF 5000 is suited for wall mounting and integration into barrier systems. Following Bosch's pharmaceutical line competence, the new filling and closing machine can be combined with upstream and downstream equipment to form a complete line.
More info: