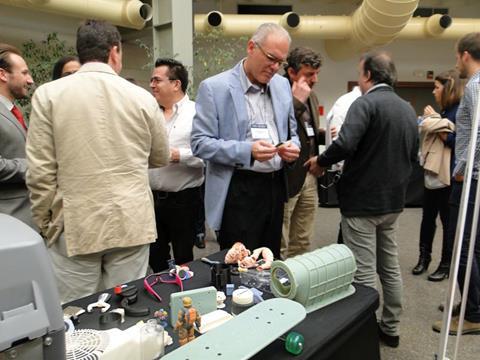 AIMPLAS organizes the second edition of the international seminar on new materials Plastics are Future.
Following the success of its first edition, AIMPLAS has organized for the 24 and 25 April 2018 the international seminar on new materials Plastics are Future, which is currently completing the composition of its program.
This meeting will bring together the main innovations in advanced materials for the medicine, aeronautics, automotive, packaging or energy sectors, together with 4.0 industry, plastronics or coatings, as well as hybrid and sustainable materials.
Following the success of its first edition, AIMPLAS, Plastics Technology Centre, will hold the 24 and 25 April 2018 in Valencia the international seminar on new materials Plastics are Future. In this meeting, researchers and experts will bring to the table the latest technological advances in the sector of new plastic materials.
Plastronics, materials designed to deal with extreme conditions, the latest innovations in biopolymers, materials with unique performances for the healthcare sector, as well as the cutting-edge transformation processes and the energy advances will be the protagonists of this seminar, which is expected to bring together more than 150 professionals from the entire value chain.
Innovations that attendees will see respond to the needs of a wide range of sectors, from energy to medicine. Thus, advances in new materials for energy storage, to be implemented in electric cars or electronics, as well as anti-icing developments to increase the durability of renewable energy facilities. Regarding medicine, new smart markers and materials to improve diagnosis and theragnosis in cancer treatment will be shown, new materials to facilitate the growth and regeneration of tissue, 3D printing of biomaterials or innovation in prosthesis with new functionalities.
High-performance hybrid materials with applications in the aerospace and aeronautics industry, as well as filters and absorbers for contaminants or efficient CO2 capture processes will also have their place in the seminar program. Just like sustainable materials. In this sense, new raw materials with renewable origin and biomass, improvements in biodegradability of materials and new biodegradable additives will be presented.
Regarding new technologies, this meeting has an important space for Industry 4.0: 3D and 4D printing, innovations in process integration, advances in design and simulation tools, in-mould injection or new decorative methods and finishes. There will be also a place for plastronics, consolidated as a tool to boost the development of smart materials, next-generation polymeric sensors, prevention, protection and monitoring of cultural heritage and works of art, intelligent labels, fresh food monitoring, smart indicators, sports and biorhythms.
All these topics will constitute an extensive program that is under preparation and open to presentation proposals from companies and experts. The seminar is sponsored by Stratasys.
More info: