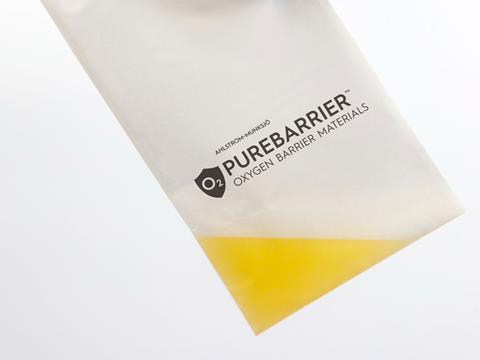 Ahlstrom-Munksjö, the fibre-based solutions manufacturer, announces PureBarrier, a monomaterial oxygen barrier technology reportedly made of 100% cellulose fibres.
The company says its PureBarrier technology, which is based on Genuine Vegetable Parchment, can be used as a sustainable alternative to non-renewable oxygen barrier packaging, as it is apparently biodegradable and compostable.
The technology features oxygen and gas barrier properties, as well as natural wet strength, according to the company. It claims that the PureBarrier technology is naturally grease resistant.
In addition, the company says the PureBarrier technology does not contain any loose fibre or added chemicals. It can also be made heat sealable with a biopolymer, which apparently means it is suitable for a number of applications.
According to Dr Noël Cartier, VP R&D for advanced solutions and parchment businesses: "Oxygen barrier properties present a significant technological challenge for Fibrous material as it is a porous structure by nature.
"Our parchment R&D team pushed the limits of fiber-based materials through several years of research to develop and patent this unique oxygen barrier mono-material.
"PureBarrier is produced from responsibly sourced and renewable wood pulp, certified according to Forest Stewardship Council standards and is biodegradable and certified compostable with OK COMPOST/ OK COMPOST HOME from TÜV."
Robyn Buss, executive vice president of Ahlstrom-Munksjö's food packaging & technical solutions, adds: "Our 'from Plastic to Purpose' campaign continues to raise awareness on the possibilities of fiber-based solutions as a renewable option.
"By educating the marketplace on paper-based packaging options available we are encouraging global industry stakeholders to consider fibre and paper-based alternatives where plastic and non-renewable materials are used today."
Last year, Ahlstrom-Munksjö announced its latest fibre-based packaging solution in line with its commitment to sustainability: LamiBak, release base papers widely used in applications such as pressure-sensitive adhesive labels, which consist of sustainable fibre-based substrates.
The company also launched CelluStraw, a fibre-based paper straw, in response to initiatives aimed at phasing out single-use plastic straws.
Ahlstrom-Munksjö says its new PureBarrier technology is already commercialised as coffee capsule lids and brewing materials for espresso systems. It is currently being evaluated for non-food applications, such as health and beauty products.