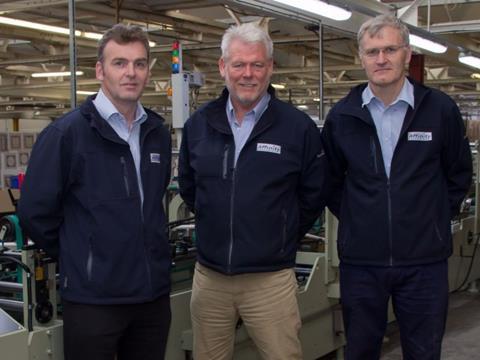 Leyland based Affinity Packaging has invested in new state-of-the-art folding carton machinery as it plans for further expansion after a healthy growth in turnover in 2016.
The company has purchased a Signature Premier 110 CS folder / gluer machine from ACE Machinery in South Korea, via its Wakefield agent Lloyds Print Services for £250,000.
The investment has already created an additional four jobs at the company which employs 50 people. The new machinery will see Affinity Packaging's folding carton capacity increase by 50 per cent enabling faster turnaround times whilst meeting exacting quality standards.
Chris Dew, packaging industry veteran and managing director of Affinity Packaging, commented on the investment. He said: "We have ambitious but realistic growth plans that are supported by continual investment. This recent acquisition of new equipment will help us to achieve our objectives and enhance our position in the marketplace."
The new investment into Affinity Packaging follows three years on from the buyout of Leyprint led by Chris and supported by the Leyprint directors Edward and Anthony Mould. Leyprint was a local family business that had been in operation for well over 100 years before the buyout.
Chris added: "Leyprint had a great reputation in the folding carton industry and was well known for providing a quality product. With the acquisition and formation of Affinity Packaging, we have built on that reputation by investing in our people, products and machinery to deliver even higher levels of service to ensure our customers brands are even more effectively marketed and distributed."
Affinity Packaging specialises in bespoke packaging and printing for all market sectors, from initial design concept through to final product. It counts household brands and supermarkets among its client base.