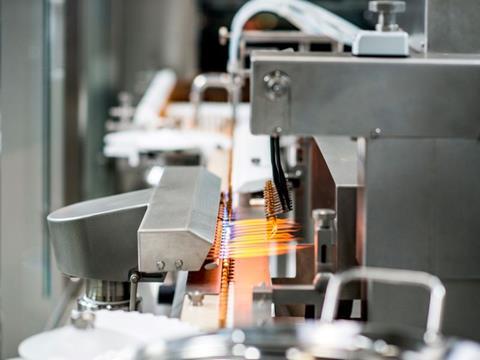 At Achema 2018, Bosch Packaging Technology presents its R&D, line and service competence, complemented by comprehensive Industry 4.0 solutions.
"We combine mechanical engineering expertise and extensive pharmaceutical know-how in a unique way. This leads to customized solutions for a wide variety of markets and requirements," says Uwe Harbauer, member of the executive management and head of the pharma business unit at Bosch Packaging Technology. At Achema, visitors will be able to experience the wide range of solutions: "Divided into the Pharma Liquid and Pharma Solid World, we will show market novelties and portfolio expansions, digital solutions and services, which together result in optimally harmonized systems for all our customers' production processes."
Pharma Liquid World: connected systems and processes
In the Liquid World, visitors can witness a market debut: a preparation system combined with a filling machine for sterile injection solutions. Thanks to synchronized components, the integrated solution provides for an efficient design phase. It can then be realized and qualified quickly and easily in line with the Bosch line competence. Customers profit from reduced efforts, high time savings and, most importantly, a shorter time-to-market.
The new process system SVP250 LF for the production of injection solutions was developed by the Bosch subsidiary Pharmatec. The conical shape of the process containers allows a broad production range of 15 to 250 liters and minimizes product loss. For product transfer from the preparation system to the ALF 5000 filling and closing machine, Bosch showcases preconfigured versions for different product characteristics, such as clear solutions or suspensions. Thanks to data exchange via the control panels, the process and filling systems communicate with each other, thus creating a connected system – also for future Industry 4.0 applications.
Focus on safety and flexibility
Bosch further demonstrates the especially safe biopharmaceutical processing with a customized MHD system for aseptic filling. While 100% in-process control provides for high quality, the system offers the highest flexibility regarding packaging types such as pre-sterilized vials and syringes thanks to the use of robotic technology in the isolator – and is equipped for further packaging types and changing processes.
Amongst other inspection technologies, the AIM 3 is showcased for the safe testing of glass containers. With a small footprint, the machine combines cosmetic and particle inspection as well as high-voltage leak detection of smallest cracks in the glass. Defective containers are already sorted out during pre-inspection to prevent glass breakage in the following inspection process. The automatic re-inspection makes sure that only defective products and containers are sorted out, thus reducing the false reject rate.
Also on show in the Liquid World: the semi-automated MSA assembly machine from the Bosch subsidiary Moeller & Devicon. It is suited for the efficient assembly of multi-piece disposable pens or auto-injectors and underlines the competence in cartridge and syringe processing. The modular and scalable platform accounts for the trend towards smaller batch sizes. Thanks to standardized modules it can also be upgraded for larger batches and fully automated production, offering drug producers the flexibility to adapt to market demands.
Pharma Solid World: from conti to containment
Bosch expands the portfolio for continuous manufacturing with the new Xelum R&D. The entry-level unit will be presented to selected customers for the first time at Achema 2018. It is based on the Xelum platform, which was especially developed for continuous production by the Bosch subsidiary Hüttlin. The Xelum R&D stands for short development times with a low API consumption rate. It offers customers the shortest way from development to continuous manufacturing – without time-consuming scale-up. In addition, Hüttlin underscores its pioneering role in batch technology: Solidlab 1 and 2, as well as the HDGC fluid bed system enable fast process times with little product loss and high yields.
The GKF 720 is another market novelty. Thanks to its washable containment, the flexible platform for small batches sets new standards in the safe processing of highly potent solid dosage forms. Customers benefit from fast product changes and short cleaning times with low water consumption.
The pharma portfolio is complemented by matching secondary packaging solutions. Amongst others, Bosch showcases the CPS 1900 WTE module with Tamper Evident function and integrated checkweigher for the reliable serialization of folding cartons. The new reworks station allows for easier handling of all serialization and aggregation data – even beyond production completion.
New Industry 4.0 solutions and comprehensive service portfolio
Apart from safety along the supply chain, Bosch's Industry 4.0 solutions also ensure transparency in production. Real-time information provides customers with all necessary data to monitor the machine status or process parameters. In addition to data services, Bosch showcases the new Pharma MES:SE. The starter edition of the browser-based software solution for GMP environments captures, stores and visualizes machine data. Just like with all other industry 4.0 solutions, Bosch combines the own software and processing expertise to offer customers a solution which is exactly tailored to the requirements of the pharmaceutical industry. Operators profit from quick reaction times in case of deviations. The Pharma MES:SE also helps to analyze and improve overall equipment effectiveness (OEE).
By capturing machine data, services such as predictive or preventive maintenance and remote service can be used more effectively. Thanks to Bosch's global presence with local service technicians and training centers, as well as the online ordering platform E-Portal, customers receive comprehensive worldwide after-sales services. "We support our customers over the entire machine lifecycle to increase OEE and to reduce downtime. With our integrated solutions from a single source, we excite our customers," Harbauer concludes.
Bosch Packaging Technology at Achema: hall 3.1, booth C71.
More info: