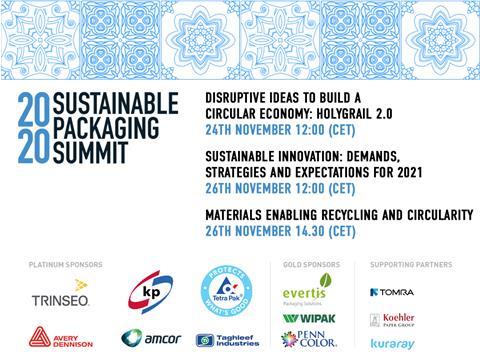 In the penultimate week of the Sustainable Packaging Summit, we're bringing you three sessions on a range of sustainability topics - including our first interactive networking session.
To watch all the events live, simply click here to register for free (or log in if you are already registered).
To put this week's events in your calendar, click here.
---
Disruptive ideas to build a circular economy: HolyGrail 2.0 24th November 12:00 to 13:30 (CET)
Last year's Sustainability Awards overall winner, the HolyGrail project is a stand-out example of collaborative innovation and represents one of the most potentially disruptive and impactful new technological movements in making a circular economy possible.
Now into its second phase, HolyGrail 2.0 is setting out to prove the viability of digital watermarking for sorting waste at scale. We bring together some of the collaborators across the value chain to discuss the next steps of the project and visions of watermarking technology in the marketplace.
Speakers:
Michelle Gibbons (Director General, AIM - European Brands Association)
Gareth Callan (Sustainability Packaging Manager, PepsiCo)
Volker Rehrmann (EVP, Head of Tomra Recycling/Mining & Circular Economy)
Gian De Belder (Technical Director, Packaging Sustainability, Procter & Gamble)
Paulo Correia (CTO, Logoplaste)
Sustainable innovation: demands, strategies and expectations for 2021 26th November 12:00 to 13:30 (CET)
In this session, our panelists will be discussing the demands driving innovation in their organizations and across the wider FMCG packaging landscape over the coming year.
We'll be exploring the key sustainability challenges that call for innovation to overcome, as well as pinpointing the most exciting areas of technological advancement around recyclability, reduction of materials and end of life.
Speakers:
Louis Lindenberg (Global Packaging Sustainability Director, Unilever)
Bruno van Gompel (Technical and Supply Chain, Coca-Cola Western Europe)
Gabriele Haessig (Head of Communication & Sustainability, Germany, P&G)
Burak Sahbaz (Senior Director Marketing, Paper and Films, Label and Graphic Materials, Avery Dennison)
Aida Cierco (Sustainability Manager, Klockner Pentaplast)
Interactive session: Materials enabling recycling and circularity 26th November 14.30 to 15.30 (CET)
The first of our interaction sessions, in which delegates can share their questions and remarks with the expert speakers. Join us in an exclusive Zoom meeting to hear from Avery Dennison on the challenges and strategies around clearing the pathway to a circular economy.
Speakers:
Burak Sahbaz, Senior Marketing Director - Paper, Film & Sustainability, Labels and Packaging Materials Europe, Avery Dennison
Sam O'Keefe, VP R&D, Label and Graphic Materials Europe, Avery Dennison