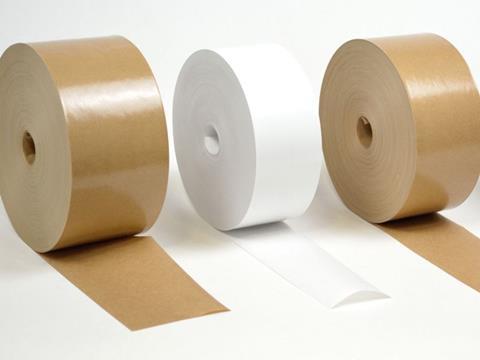 Fipago represents the global gummed paper tape industry: producers, converters, and raw material and equipment suppliers. Elisabeth Skoda spoke to Fipago delegate of the board Toon Schrijver to find out more about the association and its work in promoting gummed paper as a material which has a wide range of applications in the packaging industry.
Fipago (Fédération Internationale des fabricant de Papiers Gommés) was founded in 1957 by a group of European manufacturers of gummed paper tape. It was founded to join forces to have a stronger voice for their common interests. Today, Fipago is an international body, including members from Europe, USA and India.
A versatile material
Typical applications for gummed paper tapes include e- commerce fulfilment applications and high value products, alcoholic products, automotive, bags, bed and bath, books, clothes, consumer electronics, fashion, food products, furniture, games, gifts, home and garden, jewellery, shoes and personal lifestyle, pharmaceuticals, toys and watches.
Commercial gummed paper was originally manufactured in sheets formed by coating paper with a water soluble natural gum. Initially common brown manila paper was gummed in reel form and dried on large drums. This material was subsequently cut into squares or circles to seal the wrapping of reels of paper. "The modern gummed paper tape for package sealing was developed when it was discovered that long fibre Scandinavian kraft resulted in a much stronger and better product than gummed manila. Made of virgin cellulose has the best technological properties, as it has a low stretch, a smooth surface as well as strength and resistance to breakage," Mr. Schrijver explains.
Improvement in adhesives meant that they now have no odour, no degradation when stored in reasonable conditions and achieve an aggressive and permanent seal. Development continued with the advancement of modern technology which makes it possible to run high solids at faster machine speeds. "Production nowadays is being concentrated in fewer, but modern, efficiently run organisations having the most sophisticated computer controlled coating equipment and automated high-speed slitting and handling machines," Mr. Schrijver is happy to report.
He is keen to highlight its environmental credentials. "Gummed paper tape is made from renewable natural organic resources. The used paper originates from sustainably managed forests, certified with FSC and/or PEFC labels, and offers 100% recyclability, a starch based and water activated adhesive - an integral closure method.
Catering for industry trends
Mr. Schrijver lists several industry trends. He highlights is a growing call for sustainable packaging, something that gummed paper tape is well suited for. As they consist of the same natural fibres, gummed paper tape bonds with the carton box and become part of it. Together they form a mono-material packaging which makes recycling more environmentally friendly, easier and with less costs."
Another key trend he points out is tamper evidence, which is important for growing e-commerce activities."Gummed paper tape cannot be removed from the carton without leaving traces of damage. Such a closure provides protection against theft, which is a major problem in the supply chain. Specialist tamper-evident reinforced gummed Paper tape is available to give even more protection.
Tamper evidence is also crucial for the pharmaceutical industry. "Recently developed EU-legislation (The Falsified Medicines Directive 2011/62/EU) for the pharmaceutical industry supplies details on how the authenticity of medicines should be verified and by whom, as well as the characteristics of the safety features. A major element includes that tamper-proof sealed packaging must be used to prevent falsified medicinal products entering the legal supply chain. Gummed paper tape plays an important role to meet these requirements."Finally, Mr. Schrijver talks about the benefits gummed paper can give for product communication."Gummed paper tape can be printed on easily in order to provide last-minute information and to help manufacturers improving their brand awareness."
Innovations
In order to cater for these trends, there have been continuous technical developments, in particular in improving the strength of gummed paper tape as well as the development of high tech water-activated tape dispensers to improve productivity and to be more reliable.
Mr. Schrijver finishes with an example of recent innovation by one of Fipago's members.As a reaction to the ever-growing e-commerce trade, Fipago member company Better Packages, a subsidiary of Intertape Polymer Group, offers water activated tape and tape dispensers as an alternative to pressure sensitive tapes.
"Only one strip of water activated is needed to secure a carton. It is tamper evident, as the water activated tape sticks to and bonds with the cartons, so any opening during transit is harder and can easily be spotted. The water activated tape is stronger as it includes two plies of paper and is reinforced with fibre glass, offering a stronger bond. It also is recyclable and therefore has no negative impact on the environment. In addition, using water activated tapes increase productivity, as sealing with the special dispenser is less time consuming than doing it by hand."
More info: