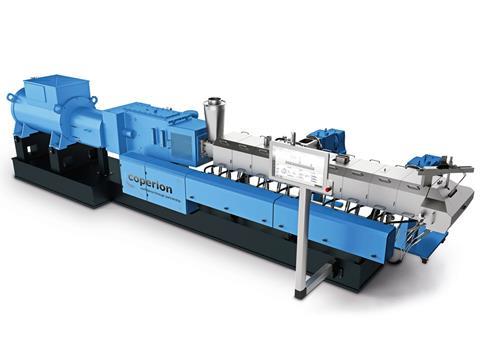 Coperion is implementing a brand-new concept for the production of flexible multi-layer film that it says allows manufacturers to avoid production waste.
Recycling multi-layer film has long posed a challenge since, Coperion argues, such films can only be reclaimed in very complicated ways and not without the creation of residues. Now, however, the company says that it has developed a closed-loop approach in which up to 100% of multi-layer film production waste can be re-processed and fed back into the production process in a closed-loop.
In terms of how the concept works in practice, multi-layer film waste from the production process is shredded as a first step before it is fed into the ZSK extruder via pneumatic conveying and "highly accurate" feeding from Coperion K-Tron. There, the material is homogenized and devolatilized with very high intensity in the co-rotating ZSK Mc18 twin screw extruder.
Within the extruder, dispersion and devolatilization performance are crucial to end product quality — with what Coperion describes as gentle product handling and very good mixing behaviour even at very high throughput rates, thus apaprently achieving consistently high product quality.
Following homogenization in the ZSK extruder, in the closed-loop concept, the recycled material is added back into the multi-layer film production process; reportedly with no quality loss and with a high proportion of added recyclate. Thus, Coperion says that its new system allows multi-layer film manufacturing to take place sustainably, efficiently, and in a resource-friendly manner.
Peter von Hoffmann, General Manager of Business Unit Engineering Plastics and Special Applications at Coperion, commented: "Sustainability is becoming more and more important, and the topic of the circular economy is moving further into the foreground for companies – and that is much more so for multi-layer film producers. We're proud that, with our years of process know-how and our visionary technological solutions, we can contribute to a promising, forward-looking and sustainable closed-loop approach."