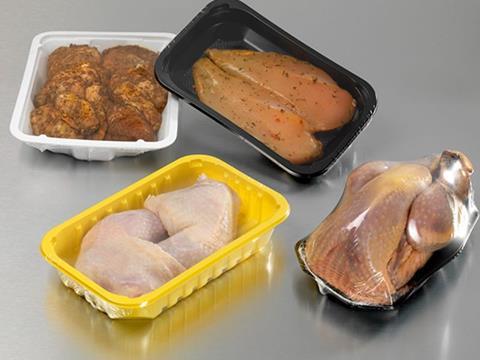 Dow and Bolloré have joined forces on a pilot project which enables the use of recycled content in new food-contact packaging, which can in turn be recycled after use. Films using circular polymers will be rolled out first in the UK, in September, where they will be exclusively distributed by Yorkshire Packaging Systems (YPS).
Elisabeth Skoda spoke with Peter Sandkühler, Dow's EMEA sustainability director, Nicolas Badier, product and R&D manager at Bolloré, and Josh Gibson, sales director at Yorkshire Packaging Systems prior to the official announcement on Wednesday, to gain insights into the development process and the circular polymers powering the new film.
Bolloré's OXBTEC_RCB (Recyclable Circular-Based) barrier shrink film is manufactured from circular polymers provided by Dow. These circular polymers are produced via chemical recycling using mixed plastic waste that would otherwise be incinerated or landfilled. Chemical recycling enables mixed plastic to be broken down into their basic elements and repolymerized into the equivalent of virgin plastic.
The power of advanced recycling
"Mechanical recycling is widely used for recycling plastics. But there are limitations when it comes to mixed plastic streams and multilayer structures. Moreover, mechanical recycling in packaging today has limitations with regards to food contact approval or usage in other highly regulated areas such as cosmetics and medical applications," explains Mr. Sandkühler.
"This is where chemical, or as we call it, advanced recycling comes in. The technology can avoid approximately 1.5 tonnes of CO2 per tonne of plastic recycled, compared to incineration of unrecycled plastics," adds Mr. Sandkühler.
"In this type of chemical recycling, mixed plastic waste is broken down to the molecular level by heat, a process called pyrolysis. As a result, we achieve an oil that can be used as a raw material to create virgin-equivalent polyethylene. We are at the start of the product circle again, and that's why we call them circular polymers. From that stage on we can use similar processing technologies as we have also been using with our fossil-based polymers. For the film presented here, we basically replaced fossil naphtha with circular naphtha. The circular polymers created are of high quality and in their characteristics equivalent to virgin polymers which allows us to get approval for food contact as well as for other regulated applications," adds Mr. Sandkühler.
The new film made from these advanced polymers will be rolled out first in the UK in September 2021, where it will be exclusively distributed by Yorkshire Packaging Systems (YPS), a long-established partner of Bolloré. It will be incorporated into production by their customer, meat and poultry supplier Cranswick.
High functionality
Bolloré's Mr. Badier highlights the smooth development process for the new shrink film using the circular polymers and underlines the fact that the resulting film doesn't behave any differently to standard shrink films.
"Following technical meetings to understand the process, we performed process trials on our extrusion equipment and started with the integration of the resins in the formula as well as prepared the industrialization process. The trial was very successful, and we found that the film behaved just like a standard one."
He points out that the film helps address the major industry challenge of having films containing recycled content that are still suitable for food contact applications.
"We are thrilled with the successful technological advances that made it possible for us to be able to offer a certified recyclable barrier film for modified atmosphere packaging (MAP). This overcomes one of the biggest challenges the industry faces."
Battling food waste
Bolloré's barrier shrink film – which is designed especially for the packaging of fresh food products – is also supporting the fight against food waste. According to the Food and Agriculture Organization of the United Nations, if food waste were a country, it would be the third-largest emitting country of greenhouse gases in the world.
"The film can help prolong the shelf life of food. For example, by doubling the use-by date of poultry from seven days to 14, the entire supply chain is optimized by increasing the window of safe consumption for the public," adds Mr. Badier.
Poultry is a demanding product to keep fresh for longer, needing a hermetic seal as well as the right level of CO2 inside the pack, adds Yorkshire Packaging System's Josh Gibson.
"Bolloré's films are amongst the thinnest packaging films in the world. To ensure that the resin is perfect is crucial, and the fact that you can do that with recycled content is a huge step forward," adds Mr. Gibson.
He confirms that the new film was no different to work with to standard films.
"Unless you read the label and learn about the recycled content included, you would not know the difference. In terms of shelf life, in terms of performance, in terms of shrinkability – everything is identical."
The new film has been awarded BRC accreditation from the manufacturing stage to distribution and reportedly exceeds all hygiene and safety regulations.
"This is an exciting collaboration, and we are excited to be working with Bolloré, Yorkshire Packaging Systems and Cranswick to launch this high-quality, safe and recyclable packaging made with pioneering circular polymers" concludes Mr. Sandkühler, sustainability director at Dow.
"We expect the market for films with recycled content to grow significantly in the coming years, also due to new legislation in the UK like the tax on packaging that does not contain at least 30% recycled materials, and similar initiatives in the EU. Developments like this are crucial to fulfil growing demands in the future."