Sustainability Awards 2017 winner: Cutting Food Waste
RPC bpi protec, X-Hance
Food waste is acknowledged as a major environmental, as well as social, problem. A significant cause of large volumes of waste is food that becomes inedible or unusable before it is ready to be eaten. This issue is exacerbated in the Western world by the drive for convenience and changing shopping habits, which has led many consumers to buy in bulk. This in turn can lead to product deteriorating before it is consumed.
Potatoes, for example, can develop green discolouration due to a build-up of solanine, a naturally occurring chemical triggered by too much light. When they turn green, they develop a bitter taste and become unsuitable for consumption due to a build-up of harmful toxins. This has contributed to potatoes being one of the most commonly wasted vegetables, with an estimated 730,000 tonnes (5.8 million individual potatoes) binned by households each year in the UK alone.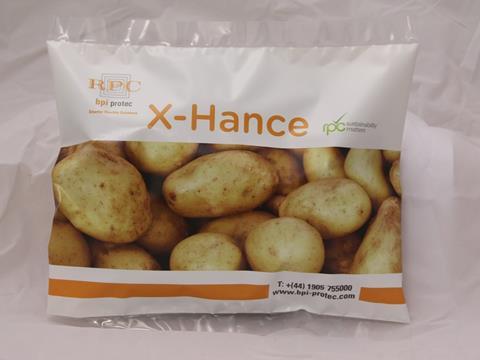 This age-old problem is now being tackled with a new film developed by RPC bpi protec that is able to protect and preserve the potatoes throughout the supply chain and in the home.
Winning in our 'Cutting Food Waste' category, the X-Hance film is 100 per cent opaque but is still a breathable film, designed to protect, preserve and also promote a wide range of fresh produce. By eliminating light rays it conserves the product inside to deliver extended shelf life of at least one more week.
The high impact film – which can be printed in up to ten colours to enhance brand image and on-shelf presence – performs well and consistently on VFFS packing machines, with excellent seal strength integrity. Additional perforations can be included to improve air flow within the pack, without affecting the aesthetics or performance of the packaging.
X-Hance, which has already been adopted by a leading retailer for some of its potato ranges, delivers three benefits essential for retail applications. The film protects the product during transit from field to retailer to the end-consumer; preserves its freshness and quality over an extended period; and delivers effective point-of-sale promotion in the retail environment. In this way it provides an excellent example of a solution that meets both commercial and sustainable packaging requirements.
In addition, the film is recyclable in the LDPE waste stream.