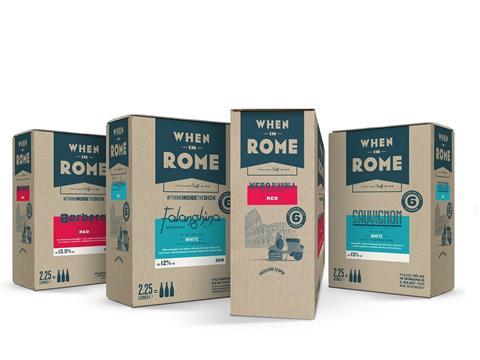 When in Rome, the UK's first premium wine box, has pushed to the forefront of the revival in popularity of bag-in-box wines in the UK, winning new nationwide listings in Waitrose and Harvey Nichols and seeing a surge in consumers opting for premium wines in box over bottle.
The wine box revival has been one of the most talked about trends of the year and looks set to take off in 2018 as UK consumers and retailers embrace the environmental appeal and taste credentials that have made the format so successful on the continent.
When in Rome founder Rob Malin comments: "Retailers are clearly seeing changes in consumer habits and are looking to embrace the many advantages of bag-in-box wine. It's premium offerings like ours which have won the format new credibility with the trade and, of course, consumers. We're thrilled to have nationwide listings in such a short timeframe and we also see huge potential in the independent sector."
Rob launched his bag in box range about 18 months ago having spotted a gap in the UK market for a wine box brand that could provide great quality wine in an equally attractive box.
"We were confident there was great potential in the wine box market. It's already hugely popular in mainland Europe, especially in Italy, France and Sweden, so it really was just a matter of time before the UK finally caught up," says Rob.
Rob worked closely with his two partners Andrea Marchesi and Lorenzo Canali to create a range which would celebrate the best of Italian winemaking in a packaging that would retain an artisan, premium feel while respecting the environment.
The range includes ten wines with popular varieties such as Nero D'Avola, Pinot Grigio and Barbera all made by small and independent producers who typically only sell to local consumers. Each wine is sold in a 2.25 litre box, which celebrate provenance via a design that focuses on each of the wine producers' stories.
When in Rome is also keen to raise awareness of the positive impact wine boxes can have on the environment. With several billion single-use wine bottles sent to recycling each year in the UK alone, wine boxes offer a more ecological and sustainable alternative boasting a lower carbon footprint and reduced manufacturing and transport costs.
When in Rome won its Waitrose listing in September and is available nationwide and has recently become the first ever wine box offering in Harvey Nichols.
When in Rome range is currently available at Waitrose, Harvey Nichols and other independent wine merchants throughout the UK – range starts at RRP £25.
More info: