Packaging converters play an important role in the value chain and handle a wide range of materials and substrates. But how does the sector innovate to deal with a challenging economic climate and increasing sustainability demands, and what are the latest trends and developments? Elisabeth Skoda finds out more, speaking to HEIDELBERG and BOBST.
2022 brought with it a host of new developments and challenges, not least supply chain disruptions and material cost inflation, as Christian Steinmassl, Head of Segment Packaging at HEIDELBERG, points out. In addition, staff shortages, especially for skilled staff, are also here to stay.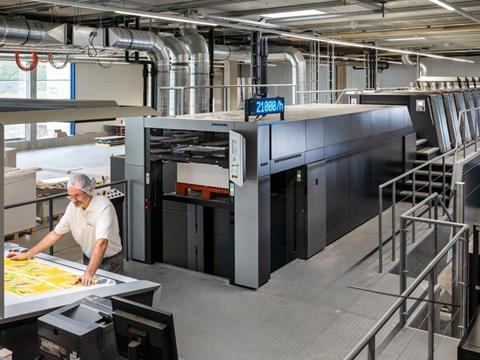 "We expect this to lead to a growing interest in automated solutions and autonomous machinery," he says.
The impending EU Green Deal is likely to drive substitution of plastic by fibre-based packaging materials.
"This trend is already visible, with more and more large producers of branded consumer goods switching to carton board for sustainability reasons."
Working with fibre-based packaging
Sara Alexander, Marketing & Communication Manager Flexible Packaging at BOBST, also thinks that a move to fibre-based materials is a hot topic in the industry, and predicts that although plastic alternative solutions will be a primary focus for many, paper alternatives are growing, further pushed by brand owner interest and the consumer perception of paper as a sustainable option.
"We launched oneBARRIER FibreCycle at K 2022, a full paper, mono-material, recycle-ready solution created together with partners Michelman and UPM, in response to increasing demand in the industry for more paper-based packaging options. At K 2022, together with Finnish-based converter Huhtamaki, BOBST also revealed the first ever hero samples of converted packaging using the FibreCycle solution," she says.
Flexible packaging – demand for recyclable solutions
The industry is working towards improving packaging functionality and sustainability at the same time, which comes with its own set of challenges, as Ms Alexander explains.
"Finding alternatives to plastic is difficult, particularly for food packaging, where high barrier protection against oxygen and water is an absolute must. Any alternative needs to have similar properties in terms of preservation and protection, versatility and price – all while being visually pleasing to the consumer. And part of the challenge can be found in the variability of flexible plastic packaging – stand-up pouches, sachets, films, bags, liners, wraps and so on – which generally consist of several layers of different types of plastics."
She highlights that BOBST set out to address this challenge with the oneBARRIER family of sustainable flexible packaging solutions both using mono-material polymers and paper-based alternatives, which was shown at K 2022.
"oneBARRIER PrimeCycle, for example, is a polymer-based mono-material, which is recycle-ready up to 98% while retaining excellent barrier qualities. PrimeCycle is an EVOH-free, top-coat-free solution for full PE barrier and is an alternative to metallized polyester film."
Sustainable machinery operation
Another important aspect of sustainability in the converting industry is avoiding waste and boosting energy efficiency. Mr Steinmassl gives the example of a Speedmaster machine.
"A comparison of the Speedmaster CD 102-6+L from the year 1990 with the current Speedmaster XL 106-6+L shows that energy consumption per 1000 sheets has been cut from 13.8 kWh to 8 kWh, a reduction of 40%."
He adds that the biggest lever that can help a print shop minimize its ecological footprint is systematically reducing the paper waste associated with makeready processes.
"We offer a range of tools for that, such as our inline colour and register measurement and control system, Prinect Inpress Control. Furthermore, we're working on optimizing the energy consumption of our machines. In the interests of our customers, HEIDELBERG looks at the printing processes from end to end when developing more sustainable solutions. Smart software can make a difference here – HEIDELBERG utilizes artificial intelligence to optimize the runtime efficiency and maintenance costs of our printing presses. Our Saphira Eco Line of environmentally friendly print consumables is another example of the responsible approach we take when reflecting on material characteristics."
To meet the demand for higher outputs, HEIDELBERG recently launched the Speedmaster XL 106 21k press, described as the fastest sheetfed machine in the packaging industry, with the potential to produce more than 100 million sheets per year.
"The new flagship die cutter, Mastermatrix, with an advanced drive concept, was successfully launched in 2022. In terms of digital technologies, HEIDELBERG is working on a 'Green Pass app' for print jobs. This will allow our customers to determine the complete CO2 equivalent for each individual order, for example. Our customers in the packaging segment will be legally required to report such information in the future," says Mr Steinmassl.
Efficiency across different substrates
Ms Alexander also highlights the importance of developing innovations that enable better sustainability performance across the portfolio, for example in terms of reducing waste in the area of corrugated and flexible packaging as well as labelling.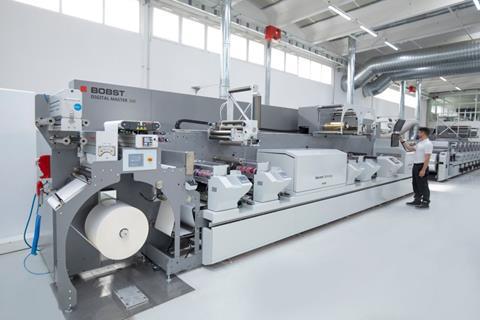 "In corrugated, BOBST's Premium Gap Control is a system controlling the folding process of all finished corrugated boxes at full production speed, ensuring minimal waste.
"In flexible packaging and labels, BOBST's Advanced Register Control for Precision Printing and ECG in Gravure can offer significant reduction in downtime for press set-up, which greatly reduces the waste that is generated in the process and at the same time offers even higher precision register control.
"In labels, the hybrid systems such as the DIGITAL MASTER 340 and 510 are a more sustainable technology compared to traditional flexo, due to their lower waste, higher uptimes and consistent production of high-quality labels at high speeds."
Connected machines
Advances in efficiency are made possible by a constant digital information flow, Industry 4.0 infrastructure and data-driven services.
To this end, BOBST Connect is helping customers to get fact-based business insights, and leverage Industry 4.0 cloud-based infrastructures, explains Ms Alexander.
"BOBST Connect is an all-in-one digital platform – it brings data and digital services together in one fully connected platform, with BOBST machine insights and expertise built-in. It gives our customers an overview and orchestration of the production process and helps them to benefit from accurate Overall Equipment Efficiency, from specific equipment monitoring data and from interfaces to connect to existing software such as MES. All of this helps with efficiency and streamlining."
HEIDELBERG also believes in the importance of connection and data.
"We offer a suite of data-driven services with more than 8000 installed machines connected to our main server. Data-driven services support our customers, helping them optimize their output. We avoid unscheduled downtime with predictive monitoring and support regular maintenance procedures with our Maintenance Manager app. Smart assistants help simplify processes and feedback valuable information in real-time with our Performance Advisor Technology (PAT), says Mr Steinmassl.
Looking to the future
It appears that there is a lot of innovation happening in the converting industry, but what can we expect in the coming year?
Ms Alexander thinks that transformation in the flexible packaging industry will be driven by the potential of new recycle-ready substrates.
"We believe that in 2023, this transformation will occur in the context of a calmer environment compared to 2022, with a more normal global supply chain and cost equilibrium.
The industry will continue to consolidate and prepare for more digitalized and sustainable packaging solutions by 2025. And in an environment that is more competitive than ever before, today's new technology can give a significant competitive advantage – whether that's great efficiency and productivity, or with services, the ability to keep on track and delivering for customers no matter what the situation."
Mr Steinmassl sees scarcity of skilled workers, climate change, energy prices and the circular economy as major drivers shaping the industry.
"Automation is key to compensating for the shortage of skilled workers. Simplicity and transparency are further key success factors when it comes to efficient process design. Emission control to mitigate climate change and the demand for energy-efficient solutions and a circular economy will become the main drivers for innovations in the future."