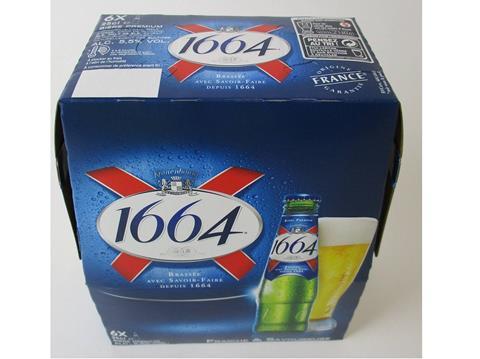 WestRock, a differentiated paper and packaging company, and global brewer, Carlsberg Group, have collaborated on the first combination of primary and secondary beverage packaging to receive Cradle to Cradle certification.
The company received Cradle to Cradle Bronze certification for the Kronenbourg 1664 6-Pack Carton, made from the company's Carrier Kote® Coated Natural Kraft® paperboard. This material provides excellent print quality, displaying clear, attention-capturing graphics on the shelf while giving optimal protection to the glass bottles.
The Cradle to Cradle Certified™ Product Standard guides designers and manufacturers through a continual improvement process that looks at a product through five quality categories — material health, material reutilisation, renewable energy and carbon management, social fairness, and water stewardship.
This achievement is the result of deep collaboration between WestRock and Carlsberg and a shared commitment to sustainability. WestRock joined the Carlsberg Circular Community (CCC) in 2014, and continues to collaborate through ideation, efficient design and material reduction, among other initiatives. The CCC is a partnership between Carlsberg and key supplier partners that was created to rethink product packaging to ensure quality, optimise raw material inputs, eliminate waste and improve end-of-life environmental impact. The Carlsberg Together Towards ZERO programme, which includes ambitions to create products with zero carbon footprint and zero water waste, is in response to global challenges such as climate change, water scarcity and public health issues. The programme encapsulates how the Carlsberg Group is pursuing its purpose of Brewing for a better today and tomorrow, and is based on a scientific approach that is in line with the United Nation's Sustainable Development Goals.
"Sustainable development is only possible with strong partnerships and a true commitment to innovation. We are proud to partner with WestRock to continue to drive new ideas that increase our customers' enjoyment of our products and protect the environment," said Michael Hinrichs, chief procurement officer, Carlsberg Group. "We appreciate WestRock's active contribution to the CCC and look forward to continued partnership in the coming years to achieve the ambitious targets in our new sustainability program, Together Towards ZERO."
"Sustainability is a key part of our value proposition for customers," said Nina Butler, chief sustainability officer, WestRock. "We value the trust that Carlsberg has put in us, and we look forward to continuing to deliver winning solutions that enhance sustainability."
More info: