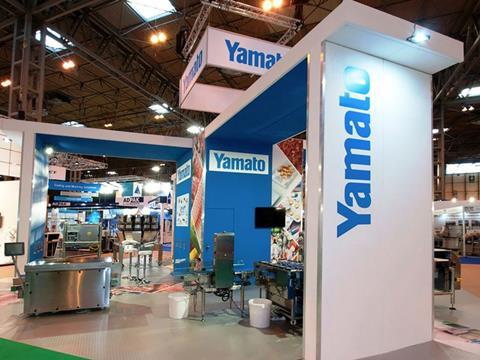 Yamato Scale Dataweigh UK is demonstrating the world-beating capabilities of its leading automatic weighing machinery at Interplas in September.
Yamato is exhibiting at Interplas at the NEC in Birmingham to demonstrate the capabilities of its checkweighers in the plastics manufacturing process. Located on stand J53, Hall 4, the Yamato team will be showing visitors to the exhibition how its weighing technology, combined with expert sales and engineering support and spare parts availability, create a true one-stop-shop for plastic component manufacturers.
Yamato will be showing off its dynamic check weighing systems and solutions with its I Series combination machine and I Series machines. The Yamato I-Series checkweigher benefits from a waterproof stainless steel structure and complies with IP67 (IP69 optional) standard and HACCP, making it suitable for a variety of industry applications. The robust design structure, tough tubular frame and new digital filter system minimise the effects of floor vibration.
Using an advanced interactive colour touch screen with 3D animation, the I-Series check weigher can assist the operator and monitor the systems using self-diagnosis. With a 3-step set up procedure the checkweigher is easily programmed and ready for use within minutes.
Load cells for the I-Series checkweigher are designed for high speeds and high accuracy, optimising performance levels and increasing productivity. Tool-free removal of the conveyor belt makes maintenance and cleaning easy.
Compliance with weights and measures legislation is crucial and Yamato will be demonstrating how it achieves this throughout the production process. It will also be showing how it is possible to respond quickly to the changing compliance landscape with reference to the recently introduced changes to the measuring instrument directive (MID) regulations.
The I series also helps component manufacturers to avoid overweight packages, wastage and giveaways."We're excited to be showcasing at Interplas," said Andrea Spencer, commercial operations manager for Yamato Scale Dataweigh UK. "Many customers are interested in the processes and machinery that keep their lines running behind the scenes. This event gives us a valuable opportunity to engage with them and discuss how they can best achieve their objectives with Yamato's checkweigher systems."Plastic components can be notoriously difficult to weigh due to irregularities in piece size and weight. Yamato multihead weighers are ideal for weighing plastic components and hardware of this sort. In addition to check weighing systems Yamato's multihead weighers for hardware are built with quality and functionality in mind, and are built to sustain wear and tear.
Machines such as Alpha Advance and Omega multihead weighers have high load capabilities. They are robust and able to handle harsh environments. They can handle larger, irregular sizes and they have an anti-static coating which reduces static build-up which can negatively affect accuracy.
More info: