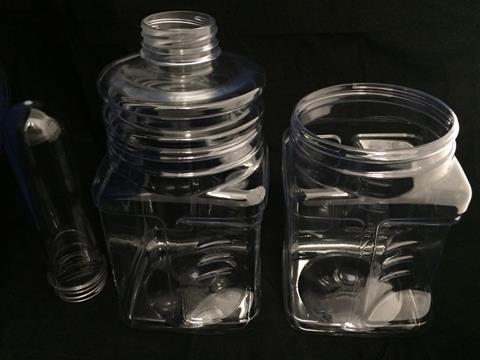 W. Amsler Equipment Inc., a leading supplier of all-electric linear PET stretch blow molders, will demonstrates a new leak tester with added functionality and performance at the upcoming NPE2018 May 7-11 at the Orlando Orange County Convention Center in Orlando, Fla. (Booth #S21067). Amsler will also highlight its standalone spin trimmer for stretch and extrusion blow molding.
The enhanced leak tester is equipped with a new camera system that can detect neck ovality issues, says Heidi Amsler, marketing manager for W. Amsler. The bottle inspection unit operates on either a continuous motion or indexing conveyor. The leak tester comes with one or two cameras and a lighting system which is installed over the top of the conveyor.
The Amsler leak tester inspects bottle sizes from 10ml to 20 liters at a rate up to 18,000 bottles/hr. The unit provides high-speed detection of holes as small as 0.006-in and can check for obstructions in the bottle neck and variations in wall thickness. Other key optional features include color deviation, batch counting, fallen bottle detection, can inspection and larger size container inspection systems.
The leak tester's B&R color touchscreen operator interface features a graphical display of test results, easy-to-use icon-based menu system, recipe storage, password protection, and automated self-test feature.
The unit's is equipped with locking castor wheels, dual guide rails, and powder-coated frame. The standard conveyor is 6.5 feet long and extended lengths and widths are available.
Custom solutions can be designed to suit specific application and plant layout needs.
W. Amsler will also showcase its spin trimmers for trimming PETG, PET, HDPE, PVC, PE, and PP containers in either two-step stretch blow molding or extrusion blow molded plants. The compact, standalone unit is built with powder-coated steel for extended life and castor wheels enable easy transport throughout the plant. The spin trimmer handles container diameters up to 200mm at a rate of up to 6000 jars/hr.
More info: