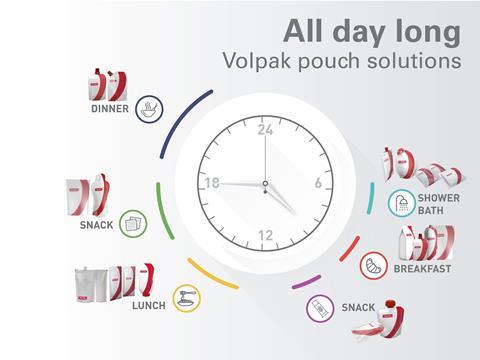 For nearly forty years, VOLPAK, a Spanish company and part of the Coesia Group, has been designing and manufacturing flexible packaging solutions for stand-up and sachet pouch styles.
The versatility of VOLPAK pouching machines allow the packing of a wide range of consumer goods products, from solids to viscous, mixed and liquids, -effectively covering the needs of a diversified and expanding market for customers in North America.
A market-based customer-responsive strategy
The analysis of macro developments in consumer habits and trends are at the root of a market-oriented business culture and a key driver in the packaging industry. In the consumer goods industry, packaging plays a leading role in determining competitive differentiation, positioning and consumer purchase decisions. VOLPAK is able to provide its customers with machines and packaging lines that anticipate and meet different production and marketing needs, creating functional and attractive packaging. Supported and serviced by R.A JONES in the US, VOLPAK is not only poised to respond to market demands, but also conditioned to anticipate future trends by observing the changes in eating habits of the various consumer industries and segments.
"Our pouching machines and innovative pouching styles," says Santy Witarsa, CEO, "are able to best accommodate and express the identifying values of our customers, while at the same time being particularly practical for the end consumer. In order to grasp the opportunities being provided by market trends, we must in fact be able to anticipate and meet the daily needs of consumers, which are constantly changing."
The pouch: born in Spain and (also) appreciated in the USA
In North-America, there is a steady increase in consumption of products in pouches in all markets influenced by VOLPAK, ranging from food liquids of different densities (from sauces to fruit juices) to solid products (hard candy for Confectionery) to products for home and personal care. Here, special attention is given to the "millennials" bracket, accustomed to an increasingly "fast moving" lifestyle and influencers of future trends. North America is therefore the reference market for the Spanish company, representing an important platform for the development of innovative packaging.
A good example is the Standcap pouch: a pouch style dedicated to viscous products, its unique shape is in response to a market in search of increasingly more distinctive and functional packaging, able to meet current and future consumer needs. The Standcap pouch ensures optimum delivery of the product by utilizing a squeeze-friendly pouch, a perfect preservation of the product, and ultimatel,y disposal of the packaging. The Standcap pouch is particularly suitable for packaging food products such as peanut butter, jelly, ketchup and sauces, widely consumed in such countries as the United States. Pre-made pouch solutions for the Standcap pouch are to be commercialized with industry partners by the end of this year.
The improvement that starts with technology
Besides carefully analyzing the market, VOLPAK is giving strong impetus to technological development activities; for example, it is engaged in the design of a new high-speed pouching machine (due to be launched in 2018) and in optimizing solutions currently marketed under the VOLPAK and ENFLEX brands. The Spanish company is also strongly focused on future production trends, pursuing - in the design phase - the logic of Industry 4.0, for automated and interlinked industrial production.
"Our goal," says Santy Witarsa, "is to become the "pouching partner" of reference for the food, beverage and chemical industries, collaborating to generate growth and value. That is why we, first and foremost, are striving to raise our standards by investing heavily in R&D activities."
Visit Volpak at Pack Expo: Central Hall, booth 3800
More info: