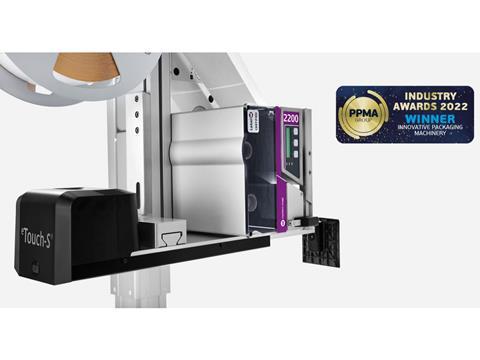 In this edition of The Spotlight, Markem-Imaje examines the advantages of case and pack labelling solutions built with artificial intelligence, and how packaging line efficiency can be improved without compromising throughput or safety.
Make labelling safer, smarter, and simpler than ever before
Improving packaging line efficiency is key to increasing productivity. The strategic implementation of packaging line upgrades is a proven means of boosting throughput, reducing costs, eliminating labelling mistakes, and ensuring that products remain well-protected throughout the value chain.
Reviewing the coding and labelling solutions used on the packaging line is an excellent starting point for any business seeking to drive out greater operational efficiencies.
The award-winning eTouch-S® intelligent labelling applicator for the 2200 Series Print and Apply system is the most effective case and pack coding solution available today. It has been designed specifically to deliver the most accurate labelling with minimal demands on factory resources, offering fast return on investment by increasing throughput and reducing downtime as well as operational costs.
Continuous innovation – transformative technology
Fully compliant to EN-4510. No operational risk and no guarding required, even at extreme speeds.


Market-leading SoftTouch technology delivers accurate coding on variable pack sizes without unnecessary force and no need to reduce line speeds.


No factory air is required for contact applications. Air consumption can be reduced by up to 95% on blow mode with the advanced EcoFlow pad.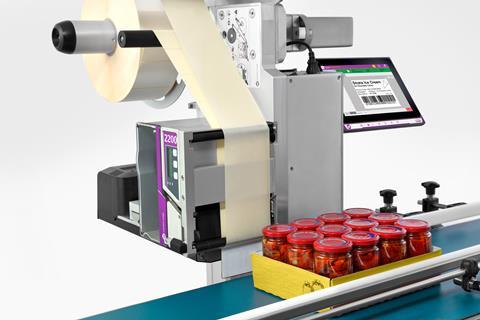 FASTER LABELLING WITH NO ERRORS
Faster, safer, and more reliable, the cutting-edge eTouch-S® applicator is built with artificial intelligence to prevent labelling errors and protect products, even while operating at the highest production line speeds.
Developed by Markem-Imaje, the market-leading SoftTouch technology responds automatically to different pack sizes without unnecessary force. This unique technology's continuous position monitoring and movement control ensures every label is applied accurately and safely to prevent product damage, reduce waste, and cut costs as well as downtime.
The optional Advanced Trigger Sensor (ATS) also allows variable speed production lines to be automated, removing the need for operational intervention, and further improving line efficiency.
HIGHEST SAFETY STANDARDS
A proprietary design, which includes several patented technologies, the award-winning eTouch-S® is an industry-first and combines the most efficient performance with the highest possible safety standards.
Reducing operational risk, even on the fastest production lines, the eTouch-S® can help you to cut the costs associated with the additional safety measures necessary on many packaging lines.
COST-EFFECTIVE AND SIMPLE TO USE
The eTouch-S® is easy to install and simple to use, reducing operator errors and downtime.
In addition, it does not require factory air for contact operations and the advanced EcoFlow pad reduces air consumption up to 95% in blow application mode.
The robust design and a long printhead life also reduce maintenance requirements, making it well-suited for use in the most demanding environments.
AVAILABLE NOW
This innovative, market-leading solution is available now – only from Markem-Imaje.
For more information about the award-winning eTouch-S® and to request a product demonstration, please click this link.
This content was sponsored by Markem-Imaje.