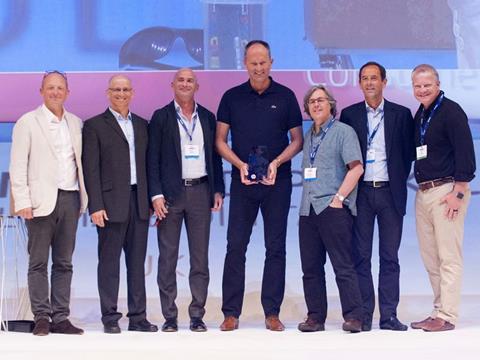 Ultimate Digital, part of the Ultimate Group has won the Inkspiration Award for Flexible Packaging at this years EMEA edition of the Inkspiration Awards.
Ultimate Digital has won the award for their recent project featuring personalised KitKats that combined variable digital print and Smartflow, working closely with Nestle.
The annual Inkspiration Awards, this year hosted in Lyon, France on 7th June 2017, showcased the very best work from HP customers. The awards provide a platform to celebrate how HP customers are pushing the boundaries of what is possible in today's digital printing world.
The award win highlights the progress that Ultimate Digital has made, developing digital print for a range of flexible packaging formats. The business is fully accredited to produce digitally printed, food contact packaging. The Ultimate Digital team are experts in the production of digitally printed, flexible packaging and the use of connected, digital technologies.
The high profile KitKat campaign combined in-store marketing on standard KitKat packaging with social media promotion to draw consumers to create their own personalised KitKat.
Ultimate Digital printed around 8,000 personalised chocolate bar wrappers a week during the project using their in-house Smartflow digital workflow system connected to their HP Indigo digital presses. Ultimate Digital are the only UK packaging printer to install the HP Indigo 20000 press to provide a solution for digitally printed, flexible packaging.
The competition drew a high number of consumers with over 56,000 packs being created. After finding a winning code inside standard KitKat packs, consumers created their personalised KitKat wrappers by adding an image and short message onto a Smartflow powered website. Smartflow processed the images and text, creating live, printable artwork that was digitally printed. The Ultimate Digital team managed the process from print to fulfilment, controlled by Smartflow.
Haseeb Rahman, Nestlé's business unit head for KitKat and biscuits says: "This promotion taps into the current trend for personalisation, giving consumers the chance to win a personalised four finger pack for themselves, a friend or loved one. The campaign has been backed with a £1 million media budget across digital and social media."
More info: