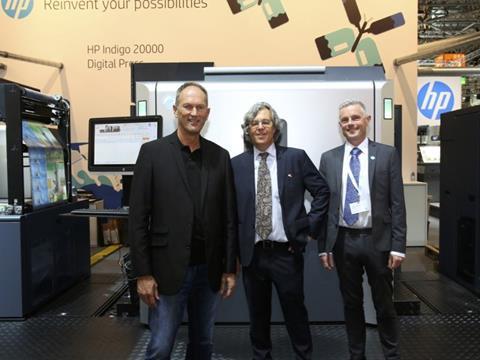 Ultimate Digital, part of the leading UK printing business Ultimate Packaging, has expanded its digital capabilities by installing an HP Indigo 20000, the second unit it has added to its portfolio.
The purchase of another HP Indigo 20000 digital press means Ultimate Digital has doubled print capacity and can now print close to 50000 linear metres of digital film per day. Ultimate Digital are particularly prominent in the FMCG arena, but hope the increase in capacity will allow them to venture into new markets including luxury packaging.
The HP Indigo 20000 offers the freedom to produce nearly any packaging application, including flexible packaging, labels, and shrink sleeves on film or paper. It also allows customers to enjoy an expanded application range, breakthrough white ink technology, advanced color capabilities, and enhanced productivity.Chris Tonge, Executive Director Ultimate Packaging, comments: "Ultimate Digital is already producing a number of exciting campaigns for brands that feature personalised packs - including the recent, hugely successful personalised KitKat initiative. By continuing our digital journey with the HP Indigo 20000, we can ensure we're able to support a larger number of these impressive campaigns going forwards."
The business as a whole has invested heavily in digital by developing Ultimate Digital and Sharp Iris to provide a complementary service to Ultimate Packaging, their already well-established flexo business.
More info: