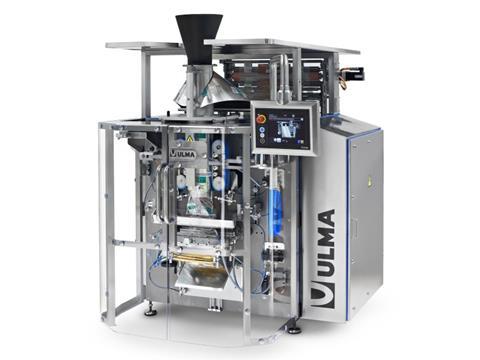 ULMA Packaging Ltd's vertical bagging technology has helped Staples Vegetables Ltd, one of the largest single producers of Brassicas in the UK, improve productivity and meet peak demands, such as the run-up to Christmas.
Staples, which grows over 16,000 acres of brassica-type vegetables across the UK, was supplied with seven vertical wrappers by ULMA at its facility, near Boston in Lincolnshire, to cope with the increasing popularity of its fresh produce.
The fresh produce business has a long-term relationship with ULMA, having previously installed its horizontal flowrappers, however, Staples had a competitor's vertical wrapping machine and though the equipment operated satisfactorily, it was not capable of delivering the quick throughput required, especially during seasonal surges.
After consulting with ULMA, Staples acquired four flexible VTI 640 vertical baggers and three VTC 840 VFFS continuous motion bagmakers to maximise crop production and product control for wrapping cut and prepared kale leaf, mixture of kale and cabbage leaves – which are very difficult to handle – and festive favourite Brussels sprouts.
With pack weights varying between 200gm and 500gm, kale and cabbage are being packaged by four of ULMA's VTI 640 - a vertical form fill and seal model which has the flexibility and versatility to produce a wide range of pack dimensions. It is robust and reliable, housing the latest generation of electric components, easy to clean and operated by an industrial PC touch screen.
The ULMA VTC 840 machines are dedicated to Brussels sprouts. Ergonomically designed for continuous packing at high production speeds, the VTC 840 is simple to operate thanks to a 10" industrial PC touch screen, and easy to maintain with full accessibility for any adjustment or cleaning task.
Paul Dyer, ULMA Business Manager, said: "Staples is a long-established ULMA customer. We were asked to look at a number of packaging options to help boost throughput of their produce. Vertical bagging equipment was the best solution in terms of increase in speed, hygiene, and exceptional product control for loose leaf items."
ULMA Packaging is part of a co-operative which can provide a wide range of high level automated solutions for the fresh produce sector, such as loading, packaging, weighing and labelling, case packing, palletising/de-palletising, internal case or tray transport. Centralised software has been developed to provide real time control of the packaging line from one single point for any ULMA installation, useful for improving the efficiency and performance of the production line.
One of the country's leading suppliers of packaging machinery and complete automated lines, ULMA can provide vacuum bags to extend shelf life, packs with modified atmosphere (MAP), skin packs designed to follow the shape of the goods and the option to display the pack vertically, shrink pack for different-shaped products and packs to match the contour of the item's shape.
More info: