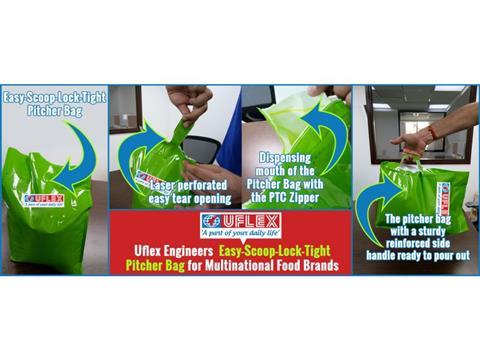 India's largest multinational flexible packaging materials and Solution Company Uflex Limited has engineered an Easy-Scoop-Lock-Tight Pitcher Bag that effortlessly dispenses controlled portions of the product packed inside.
The four panel bag comes with a reinforced handle on the side gusset spelling tremendous ease of carrying. Additionally the block bottom allows the bag to stand up without taking any support thereby enhancing the brand visibility. The pitcher bag has become a rage in the industry with more and more multinational food brands opting for it both in India as well as overseas. This bag is much in demand for packaging granular products like Rice, Sugar, Pulses and Pet foods.
Speaking about the Easy-Scoop-Lock-Tight Pitcher Bag, Mr. Jeevaraj Pillai, Joint President, Packaging and New Product Development, Uflex Limited said, "These are medium to large sized bags capable of accommodating 3; 5 and 10 kilograms of the product. We have provided a laser perforated easy to tear opening on the side at the top of the bag which peels open to form a perfectly versatile pitcher mouth-opening that is re-closable by a special press to close (PTC) zipper. The end user can easily pour / scoop out desired quantity of the product by holding the bag with the reinforced side gusset handle without actually inserting hands inside the pack. This makes the handling more convenient and hygienic. Further owing to the dispensing mouth that forms in the pouch there is no apprehension of any spillage while poring out unlike other pillow and conventional pouches. The side opening can be tightly closed by pressing the PTC zipper keeping the product safe for deferred use throughout the prescribed shelf life of the product.
It is particularly important to note that the reinforced handle on the side gusset is an integral and contiguous part of the pouch itself unlike other bags where the side handle is assembled / pasted offline on a separate machine. This increases the manufacturing process efficiency. The sophisticated imported customised pouch making machine allows us to patch the reinforced handle online giving it the required sturdiness to sustain the load. Unlike a D Punched Top Handle or the one made of tasselled thread when someone picks up this Easy-Scoop-Lock-Tight Pitcher Bag with the side handle, the centre of gravity of the load shifts further down reducing the actual effort required to carry the heavy bag during shopping.
The Easy-Scoop-Lock-Tight Pitcher Bag is made of multi-layered laminate depending upon the barrier properties required by the product to be packed inside. The one that is shown in the picture here is a two ply Polyester/ Polyethylene structure, but the structure of any pack is engineered based on various parameters like mechanical strength, barrier properties and aesthetics among others.
More info: