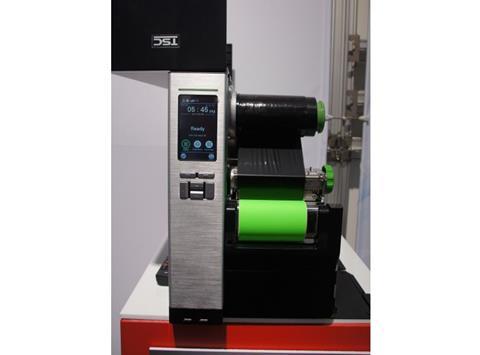 TSC Auto ID launches nine innovative, reliable thermal transfer label printers with the new MH series, the Allrounder in Industrial printing for the next decade.
All models of the Standard, Advanced and Premium versions impress by fast print speeds up to 14 inches per second, an excellent print quality and a colour LCD panel. Its new GUI is designed to deliver a large amount of data to the user in a quick and efficient manner, making the MH240 series the simplest and most informative industrial printer innovation on the market.
The three printer series include 203, 300 and 600 dpi resolution for all relevant printing demands. TSC's modern firmware automatically detects printhead resolution and switches accordingly. TSC's "Thermal Smart Control" print technology thus produces cleanest, high quality barcodes, assuring readable data through the entire supply chain.Thanks to the use of TSC's state-of-the-art printhead and the fast-est 536 MHz processor, the MH240 series allows print speeds of up to 14 inches and boosts productivity with high-speed communi-cation. The print length amounts to a total of 25,400 mm. The print mechanism supports 600 meter ribbons.
As standard, all models include serial and parallel interfaces such as RS-232, USB 2.0, USB host and internal Ethernet. Dealer op-tions or factory options are GPIO, Centronics, Bluetooth and a slot-in 802.11 a/b/g/n wireless module.
The basic models MH240, M340 and MH640 offer a 3.5" TFT panel with 6-button control, modern sensors and high memory capacities of 128 MB Flash and 128 MB DRAM. The Advanced models, in-cluding MH240T, MH340T and MH640T, and the Premium models MH240P, MH340P and MH640P stand out because of their enor-mous memory of 512 MB Flash and 256 MB DRAM as well as a 4.3" colour touch LCD panel with easy to understand icons. They are loaded with sensors for label and black mark, ribbon end and ribbon usage, head up or down and a multitude of error conditions. The "MHP" printers also include a taller media cabinet to support a full roll rewind capability (up to 8" OD).
The innovative, ENERGY-STAR® 2.0 certified MH series is based on a brand-new electronic platform and hybrid motor to handle manifold applications. The die-cast print mechanism and bi-fold metal cover are very robust and work in rugged environments without any problems. The reliable, powerful printers can be used for industrial-duty printing, compliance labelling, work in process and order fulfilment. Due to the excellent print quality, the printers are ideal for shipping/receiving, healthcare, electronics and jewel-lery labelling too.
Optional features are peeler, cutter, WiFi 802.11a/b/g/n, internal Bluetooth, GPIO and parallel ports for integration with other equipment. All models are backed by a two-year limited warranty, one of the best in the industry.
More info: